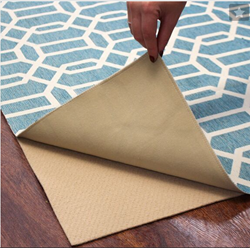 When it comes to area rugs that are nonslip and easy to keep clean, the patented 2-piece system delivers!
New York, NY (PRWEB) October 29, 2015
Today, Time Inc.'s This Old House named RUGGABLE® 2-piece Rug System to its fifth annual "This Old House Top 100," a list of the 100 best new home products of the year. Each year, the editors spend months scouting, testing, and culling countless new products for the home to identify the most distinctive, useful, and innovative in seven categories: Kitchen, Bath, Tools, Home Tech, Building Products, Outdoor Living, and Finishing Touches.
"It's an honor to have our product line recognized by experts such as This Old House. When it comes to area rugs that are nonslip and easy to keep clean, the patented 2-piece system delivers!" said Co-Founder & Inventor, Jeneva Bell.
"Home companies release thousands of new products every year, and our job is to highlight the ones with staying power—those that are in some way brilliant and will make our readers' lives better," says Editor Scott Omelianuk.
"That's precisely why the Ruggable® concept was born. We wanted to make life easier. If someone spills a drink on your rug, simply remove the top and put it in the washer/dryer and it comes out looking and smelling brand new," added Bell
"We saw a shift this year toward smart home technology," adds Omelianuk. "The market has exploded since we introduced the Top 100 five years ago, and we have a record number of smart home products on the list. Smart home technology has found its way into every room of the house, not to mention the garage and the yard."
A full list of the honorees featured in the November/December issue can be found at thisoldhouse.com/top100
About Ruggable
Ruggable® 2-Piece System features:
+ Machine Wash/Dry
+ Non-slip (no additional rug pad required)
+ Pet & Family Friendly
+ Durable
+ Interchangeable covers
+ Wool free
+ Lightweight
Each 2-Piece Set includes:
1- Machine Washable Cover & 1-Custom Non-Slip Rug Pad
The cover clings so well to the pad's surface that you can vacuum without having it suck up or come apart.
Available in a 3x5 accent, 2.5x7 runner, 5x7 area and 8x10 large area rug. The 8x10 cover = 1 load of laundry. The pad is washed separately. Go to Ruggable.com for full style selection and instructions for use.
Retail pricing ranges from $79.99 to $299.99 for a 2-Piece Set. Once you have the custom rug pad, you can have a brand new rug, just by changing it out with a new cover.
About This Old House
This Old House Ventures Inc. is America's premier home-enthusiast brand, netting 50 million multimedia impressions each month through its award-winning television, print, and Web properties. The leading consumer publication for home how-to and inspiration, the award-winning This Old House magazine has a circulation of 950,000 and reaches an audience of nearly 6.5 million print readers. This Old House is available in digital format for tablets and is published by Time Inc., the largest magazine media company in the U.S.
This Old House Media Contact: Lori Lefevre, 914.630.0961, lori(at)lorilefevre(dot)com
For samples or additional information, please visit http://www.ruggable.com or contact chelsea(at)chicexecs(dot)com.
Contact:
ChicExecs PR
1487 Poinsettia Ave. Ste. 125
Vista, CA 92081
310.569.6586
ChicExecs PR is an "out of the box" PR company which represents over 70 clients. ChicExecs has created an innovative approach to PR dedicated to helping small-medium businesses receive media coverage. Our revolutionary automated system is changing the face of PR. To learn more about ChicExecs visit http://www.chicexecs.com.