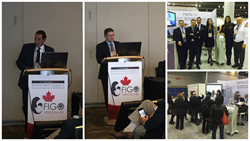 The Non-Invasive Laser Solution for Vaginal Tightening and Stress Urinary Incontinence Reduction
Toronto, Canada (PRWEB) November 02, 2015
Alma Lasers presented the FemiLift non-invasive CO2 laser treatment at the FIGO 2015 conference in Vancouver Canada (Oct. 4th-7th, 2015).
FemiLift offers a quick, safe and highly effective, minimally-invasive solution that addresses a wide range of feminine health concerns. It is a comprehensive treatment solution that can be performed in an outpatient setting with no need for anesthesia, no pain and achieves immediate improvement with lasting results. There is no patient downtime and women can regain their daily routine immediately post procedure.
By generating controlled micro-ablative damage as well as deep thermal heat within the sub-mucosa tissue, FemiLift regenerates collagen and elastin reformation and promotes tissue rejuvenation.
During the hour and a half symposium hosted by SIGO, the Italian Society of Obstetrics and Gynecology, FemiLift received extensive clinical exposure. An ongoing prospective study presented by Prof. Scollo's team (Italy) presented symptom improvement in three patient groups: stress incontinence, atrophy and oncology patients. Interim results is to be published in the near future.
A study by Dr. Jorge Elias (Argentina) presented a single center study showing an over 80% resolution rate among patients with mild cases of stress incontinence.
A multi-center audit presented by Dr. Menachem Alcalay (Israel) demonstrated over 50% reduction in pad usage by stress incontinence patients and a patient satisfaction rate of over 80% as evaluated by a General Impression questionnaire.
Dr. Alexandros Bader (Greece) presented over 3 years of experience with FemiLift including a demonstration of tissue change and a review of exploratory studies with additional patients groups such as Post-Partum Rehabilitation.
About Alma Lasers Surgical
Alma Surgical is the new standard in pioneering, smart laser solutions, and the bridge to highly specialized outpatient medical care. From gynecology, urology and phlebology, to plastic surgery and dermatology, the company's minimally invasive laser solutions provide superior results and reduced treatment time, for safer and more efficient practice and care. Alma Surgical is a division of Alma Lasers, a global developer, manufacturer and provider of laser, light-based, radiofrequency and ultrasound devices for aesthetic and medical applications.
http://www.almasurgical.com