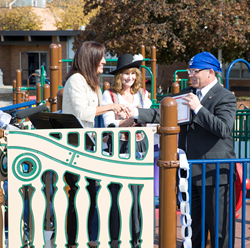 ...to support inclusive play for people of all abilities
Lambertville, Michigan (PRWEB) November 02, 2015
"We have traveled a long way in search of a place where all kids can play together," said Carol Perz, Douglas Road Elementary School principal, as she opened the unveiling ceremony for the school's new CP Swagger Shipyard inclusive playground to the public.
Flanked by the entire student body that also donned complementary pirate attire, Ms. Perz addressed the school's students, teachers and parents, as well as local dignitaries, which included Lt. Governor Brian Calley. "Today we are here to say thanks to all who worked hard," she said.
As a part of the unveiling, the CP Swagger Shipyard received PlayCore's Inclusion National Demonstration Site™ award, for creating a destination where children of all abilities can play together. The site meets the 7 Principles of Inclusive Playground Design, and features activities that address the following areas of development: cognitive, communicative, sensory, physical, and social/emotional. Michele Chandler, from Play & Park Structures, a PlayCore company, presented the award to Bedford County Public Schools Superintendent, Mark Kleinhans. Ms. Chandler added, "In addition to this award, the playground at Douglas Road Elementary will also be featured in an online registry, where it will be recognized for the commitment the community has made to support inclusive play for people of all abilities."
The ceremony celebrated the conclusion of installing the unique playground, which was inspired as part of the Gandee family's second annual Cerebral Palsy Swagger, a walk designed to raise awareness for cerebral palsy, which Braden Gandee, who is a student at Douglas Road Elementary, was born with.
"Thank you to all the people who made this possible," said Braden Gandee, as he spoke from the top of the play structure. "It could not have been done without your support." Hunter said the playground holds a deep significance to him and his family. "It means inclusion."
As the ceremony wrapped up, kindergarteners and first graders got a chance to test out the new structure. "It's really fun. We just like how we can play on it and Braden can play with us," said Emma Price, 7, a second-grader at Douglas Road Elementary.
About Play & Park Structures, a PlayCore Company - Since 1976, Play & Park Structure's mission has centered around developing products, programs, and services that enhance classroom learning, create environmental awareness, promote physical activity, and build communities. Learn more at http://www.playandpark.com
About PlayCore: PlayCore helps build stronger communities around the world by advancing play through research, education, and partnerships. The company infuses this learning into its complete family of brands. PlayCore combines best in class planning and education programs with the most comprehensive array of recreation products available to create play solutions that match the unique needs of the each community they serve. Learn more at http://www.playcore.com