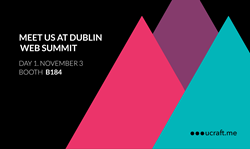 Upstart tech company ucraft.me announces participation in Web Summit 2015 as they prepare to launch their SaaS product.
Los Angeles, CA (PRWEB) November 02, 2015
Upstart tech company ucraft.me announces participation in Europe's largest annual tech event, Web Summit 2015, as they prepare to launch their SaaS product.
ucraft.me, founded by the same award-winning team behind Bang2Joom.com, a famous Joomla Template Club, and launched in 2014, will be attending Web Summit, scheduled to be held November 3-5, 2015 in Dublin, Ireland. Web Summit hosts more than 30,000 attendees with participation of many respected and established tech companies including Google, Facebook, and Coca-Cola.
ucraft.me is a subscription-based web application that allows users to craft beautiful landing pages and sites. ucraft.me takes away the need to know or write complex code systems by allowing users to use drag and drop technology and predesigned concept templates to create eye-popping and effective web designs.
"We want to share our web vision – mixing nature, music, and math to create something beautiful," said Gev Balyan, founder of ucraft.me.
While ucraft.me has secured financial backing from BetConstruct, the startup company continues to look for interested investors as they prepare to launch their product in the coming months. ucraft.me offers all users to create one landing page for free. And in preparation for the launch, all clients will receive their first month of services for free.
ucraft.me invites interested parties and potential investors to stop by booth B184 at the conference to experience ucraft.me first hand. The company will be presenting their BETA software and a newly crafted website at the booth. Media opportunities are also welcomed.
About ucraft.me
Launched in 2015, ucraft.me is an up and coming startup tech company with an entrepreneurial and startup culture. The brainchild of the same award winning minds behind Bang2Joom.com, ucraft.me is a web-based applications system geared at helping users create a professional website with little to no previous training. Specializing in online presence and landing pages, ucraft.me helps users launch or upscale their online presence in a matter of minutes without coding. To learn more or to start your free trial today, please visit http://www.ucraft.me.