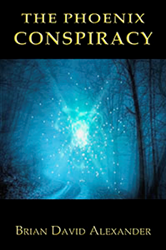 I've NEVER had a book affect me this way...Brian is my NEW HERO!
(PRWEB) October 31, 2015
With a spellbinding mix of spiritual principles, quantum physics, and good old fashioned edge-of-your-seat mystery and suspense, The Phoenix Conspiracy centers on revelations that extra-terrestrials have been abducting people and wiping their memories of the encounter, but as a clandestine government military group is forced out of the shadows to deny the charge, psychology professor Dr. John Phoenix puts his career and personal safety on the line to find the truth, which proves to be more astonishing—and life-changing-- than anything he possibly imagined.
See The Phoenix Conspiracy on YouTube.
Here's what readers have been saying:
My husband saw my copy of Brian's book "The Phoenix Conspiracy" and asked to read it.  He could not put it down!  From the moment he started the book, I have noticed a considerable change.  He has become more positive, more in tune with the energy around him and started tapping in to his own energy.He just finished the book this morning and said "I've NEVER had a book affect me this way...Brian is my NEW HERO!"
-Karen C.
I loved your book.  I started it last night and "couldn't put it down."... loved the story, loved the message. It introduces an important paradigm shift and a fascinating approach to human energy.                     
 -Caryn Hartglass, President, Responsible Eating and Living
"The Phoenix Conspiracy" is a powerful message to all of us. This book touched my soul and I feel compelled to share it with as many people as I can ... the pages of this book contain a gift for all of us - the gift of hope and growth for us as human beings on a spiritual journey and caretakers of Mother Earth.
-Deborah
I just finished Brian's book, The Phoenix Conspiracy. What a tear-jerker. I haven't cried that much in a long time. It was a very profound story and very believable. ... Thank you again!
-Jim
Thoroughly enjoyed it ... definitely a page-turner and very interesting....
-Liz
I found "The Phoenix Conspiracy" to be an incredibly written, well-thought-out… science fiction novel, incorporating all of my favorite elements (such as metaphysical, psychological, intrigue, romance and suspense). But most of all, his story infused me with the desire to want to make positive changes in my spiritual ways so that I can be more like the people who can save the planet. …It takes a real gift of writing for an author to be able to do that.
--Readers Views Review
The Phoenix Conspiracy is published by Cygnet Publications (the publishing division of Cygnet Media Group, Inc.) and is available for purchase from Amazon and Barnes and Noble.
Additional details are available from The Phoenix Conspiracy, and a video trailer can be viewed on YouTube.
For all other information, including media inquiries and requests for review copies, contact Brian Alexander at brian(at)thephoenixchronicles(dot)com.
About Brian Alexander
Brian Alexander is a writer, lecturer, counselor and martial arts master who brings an impressive range life experience—both spiritual and practical-- to his work. He honed his business acumen as founder of both a trade association and a healing arts educational center in Canada, where he also excelled as a practitioner and teacher of Neuro-Linguistics. He has a passion for helping people unravel the limiting belief systems that inhibit their health and happiness. Check out his short video on just that: https://youtu.be/rrNRsg_hXqs.
About Cygnet Media Group, Inc
The mission of Cygnet Media Group is to give self-publishing authors the services they need at a fair, honest and transparent price with no gimmicks or false promises.
Cygnet Media Group is comprised of three divisions, which provide authors a cost-effective, customized and comprehensive program for publishing and promoting their books:
Cygnet Publications provides print and e-book self-publishing services, including editing, cover design, ISBN registration, submission to online retailers (e.g. Amazon, Barnes & Noble, etc.), and a full range of marketing programs.
Cygnet Web Services provides website development for authors, including domain registration, hosting, graphic design, copywriting, and more.
Cygnet Video Productions provides professional-quality video trailers to help authors reach their target market and drive sales.