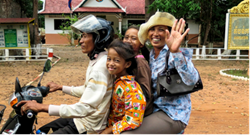 The influx of tourist arrivals has increased by 5.4% since October 2014
Miami, FL (PRWEB) November 02, 2015
Cambodia is becoming an increasingly popular tourist destination. On October 20, the country's statistics and tourist Information Department (http://www.tourismcambodia.com/news/localnews/20030/cambodia-updates-arrivals.htm) stated that the influx of tourist arrivals has increased by 5.4% since October 2014. To better handle a growing tourist economy, Cambodia changed their visa processing system in 2006, switching from the often long and frustrating process of applying for a visa at a consulate, to an entirely online visa processing system. The hope was that, by processing visas more quickly, they could better manage all the tourists coming in and further spur their tourism industry.
The application process should take only a few minutes. Once complete, you should receive your eVisa in your e-mail inbox on the same day. Unfortunately, this isn't always the case, as going through any branch of government can be a slow and complicated process. Luckily, there's Cambodia Visa Online, a website that is solely devoted to processing your Cambodia eVisa requests as quickly and conveniently as possible.
A Revolution in Visa Processing
Cambodia Visa Online is part of iVisa, which is not affiliated with the government in any way. iVisa has saved travellers time and stress when trying to get a visa since 2013. iVisa cofounder David says "Our innovative service provides the time and attention a government agency would be too busy to bother with. One attribute that sets us apart is our unique 24/7 support system, so there's always someone on call to help you through the tricky process of acquiring a visa. We also send automatic reminders before you travel, so you never forget your visa, saving you time, money, and embarrassment".
Slow progress of Cambodia online visa procedures
The Cambodian government has failed to develop and improve one of the oldest online visa procedures. Most people cannot devote enough time or energy to keeping up with a service that is not user friendly and that keeps changing over time.
"Travelers should use experts to keep their visa applications complete and on schedule. We address travel agent's needs not solved by the Government, allowing agents to process applications for large groups at once. We invest heavily on technology so we can provide our services at the lowest cost among specialized online visa processors," iVisa cofounder Sergio says.