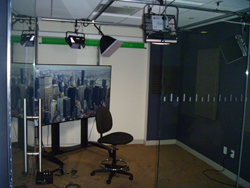 VideoLink is excited to partner with Asset TV to open this mid-town Manhattan live broadcast insert studio.
Newton, MA (PRWEB) October 30, 2015
VideoLink LLC, a full service video production company headquartered in Newton, Massachusetts, in partnership with Asset.TV announced the opening of a live broadcast studio at Asset TV headquarters in New York City, New York.
Conveniently located at 570 Lexington Avenue, on the 45th floor in mid-town Manhattan, the studio location makes it easy for broadcast and cable news networks to connect with global economic and financial experts located in New York. The studio is open during normal business hours, Monday – Friday, 8:30 – 6pm, and offers an ideal alternative to commuting to network studios for live TV interviews.
The insert studio is powered by the VideoLink ReadyCam® studio system. The ReadyCam transmits HD video and audio to broadcast and cable networks around the world, making live TV appearances a simple process. The networks schedule the studio and VideoLink operates it remotely. Experts are typically on-air within 20 minutes. Customers can also book the studio to cost-effectively participate in remote events via webcast or record video for on-demand viewing.
Come experience the studio and speak with VideoLink and Asset.TV video experts during the open house, November 6, 2015 from 12-2 pm and 3-5:30pm.
To book the VideoLink Manhattan studio, contact VideoLink operations at 617-340-4300 or ops(at)videoinktv.com.
About VideoLink LLC
VideoLink is a leading provider of video services to Fortune 500 and enterprise companies and institutions. As your video marketing partner, we partner with you to discover new ways to use video communication to achieve better business outcomes and help you produce flawless video content. Our clients rely on us to simplify live TV appearances, create results-driven video strategies, and drive down the costs of in-house video production. To learn more about VideoLink services and products, visit us videolinktv.com, follow us @videolinkllc and subscribe to our blog.
About Asset TV
Asset TV is a global video platform broadcasting exclusively for investment professionals, including: pension funds and their consultants, family offices, wealth managers, investment advisers and asset managers. Investment professionals can also watch Asset TV content on their Bloomberg terminals. Asset TV provides webcasts, filming, production services, media hosting solutions, fund manager videos, global audio and video distribution and custom-built analytics packages to the global investment management industry. For more information visit Assettv.com.