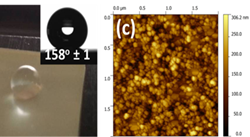 "It is important to understand the various mechanisms and solutions to mitigate corrosion early in the design of materials," states Dr. Advincula "AFM is an important tool both for materials design and forensic analysis of corrosion problems."
Santa Clara, CA (PRWEB) October 30, 2015
Nearly one fourth of the total corrosion costs which are estimated at $551 billion annually or 6.3% of GDP are preventable according to research at Case Western University by Dr. Rigoberto Advincula, Director of the PETRO Case Consortium. Additionally, according to NACE International, the global leader in developing corrosion prevention and control standards, certification and education says that experts estimate 50% of concrete repairs fail within 10 years or less, a figure that contributes to what has become an $8 billion concrete repair industry.
The scope of the corrosion problem in industrialized countries is enormous making it crucial to mitigate its effect or inspect structures prior to failure. Any metallic specie other than the noble metals are prone to specific oxidation conditions, foremost are carbon steel structures and pipes.
Park Systems is hosting an online webinar discussing the classifications of various types of corrosion and new methods using atomic force microscopy (AFM), electrochemistry and state-of-the art coating materials to prevent and understand the corrosion mechanism. The free webinar titled Corrosion: Basics and State-of-the-Art is on November 5, 2015 and registration is online at: http://bit.do/corrosion
"It is important to understand the various mechanisms and solutions to mitigate corrosion early in the design of materials," states Dr. Advincula who will present the webinar. "AFM is an important tool both for materials design and forensic analysis of corrosion problems."
Atomic force microscopyis used for investigating morphology, stress, presence of MIC or specific types of corrosions on metal surfaces all the way to nm and micron level. Complementary to SEM and optical microscopy methods, AFM can utilize various modes (including contact, magnetic, electrostatic, current sensing) to determine corrosion effects.
Park Systems is presenting this webinar as part of Park Nano Academy, which offers valuable education and shared knowledge across many Nano Science Disciplines and Industries as a way to further enable NanoScale advancements.
In semiconductors, it is also important for determining failure and stresses due to oxidative conditions and accelerated high temperature transport or joule heating.Corrosion can also be found in the oil and gas industry all the way to microstructures in semiconductors and microprocessors.
Future improvements in this field will be in the design of corrosion resistant materials and coatings, inspection and monitoring methods including effective asset integrity management, characterization and analytical tools to understand corrosion mechanism, and simulation methods. For instance, new research at Harvard has demonstrated a way to make steel stronger, safer and more durable using a new surface coating, made from rough nanoporous tungsten oxide. The metals itself can be alloyed to form corrosion resistant alloys (CRA)s or utilize different types of coatings that can have inhibitors or barrier function. Another new technology is the use of effective chemical inhibitors that are stable at a variety of multiphase fluids and higher temperatures.
About the Webinar:
Title: Corrosion: Basics and State-of-the-Art
Date: Nov 5, 2015
Time: 9am PST
To register go to: http://bit.do/corrosion
About Park Systems
Park Systems is a world-leading manufacturer of atomic force microscopy (AFM) systems with a complete range of products for researchers and industry engineers in chemistry, materials, physics, life sciences, semiconductor and data storage industries. Park's products are used by over a thousand of institutions and corporations worldwide. Park's AFM provides highest data accuracy at nanoscale resolution, superior productivity, and lowest operating cost thanks to its unique technology and innovative engineering. Park Systems, Inc. is headquartered in Santa Clara, California with its global manufacturing, and R&D headquarters in Korea. Park's products are sold and supported worldwide with regional headquarters in the US, Korea, Japan, and Singapore, and distribution partners throughout Europe, Asia, and America. Please visit http://www.parkafm.com or call 408-986-1110 for more information
About Prof. Rigoberto Advincula
Prof. Rigoberto Advincula, Director of the Petro Case Consortium, is recognized industry-wide as an expert regarding polymer and materials challenges of the oil-gas industry. He is currently a Professor with the Department of Macromolecular Science and Engineering at Case Western Reserve University and is the recipient of numerous awards including Fellow of the American Chemical Society, Herman Mark Scholar Award of the Polymer Division, and Humboldt Fellow.