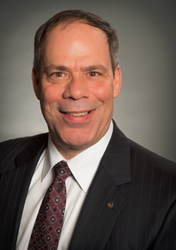 As HYPERAMS approaches its five year anniversary, I feel it is now time to take the next step in our growth - Tom Pabst, HYPERAMS President and Founder
Chicago, IL (PRWEB) November 02, 2015
HYPERAMS is pleased to announce and welcome seasoned industry veteran, Tim Serritella as Director of Business Development. Tim will be responsible for developing relations in all of the firm's verticals as well as expanding teams services in sourcing term and bridge loans.
Tim will be responsible for developing relations in all of the firm's verticals, with a particular emphasis on expanding the firm's appraisal machinery and equipment and inventory appraisal services. Tim has a long history in the banking and finance industry with over 20 years of experience. He has formed and successfully operated a variety of entrepreneurial ventures, ran the turnaround of a multi-million dollar service company and operated a successful independent loan brokerage business.
Tim entered the asset disposition industry in 2012 where he sourced asset disposition and bridge loan opportunities for a local machinery dealer and auctioneer.
"I am very excited that Tim has decided to join our firm and expand his role in the industry. While Tim has mainly been focused in lending and auctions, we see him as a multi-dimensional deal maker that can help us continue our growth in a variety of other areas, including retail and reverse logistics," said Tom Pabst, HYPERAMS President. "We look forward to having a dedicated business development officer in the Chicago market, where Tim's knowledge and experience in the banking and lending field should help us accelerate the growth of our appraisal business. As HYPERAMS approaches its five year anniversary, I feel it is now time to take the next step in our growth."
With the addition of Tim, HYPERAMS will now also source asset based term and bridge loan opportunities for firms that are undergoing challenging/unusual situations or have assets with equity available to borrow against but yet can't obtain financing from more "traditional" lenders. HYPERAMS will also selectively participate in those loans with its rolodex of funding sources.