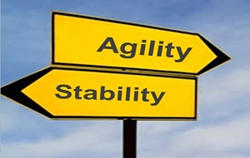 Boulder, Colo. (PRWEB) November 03, 2015
Enterprise Management Associates (EMA), a leading IT and data management research and consulting firm, today announced it will host a research webinar titled "How Blended Analytics Can Transform IT Efficiency and Value," featuring Dennis Drogseth, vice president of research, IT megatrends, analytics and CMDB systems at EMA, and Sasha Gilenson, founder and CEO at Evolven Software.
In spite of trends like cloud, agile, and digital transformation, IT still often operates in silos . . . and still suffers from chronic performance and stability issues. While there is no single cure, there are reasons for hope. One of the bright spots on the IT horizon is blended analytics.
Drogseth and Gilenson will address the following questions:

What is tiered or blended analytics, and how can it come to the rescue?
Why, and in what contexts, do IT organizations need to change to become more effective and valued?
How is blended analytics different from more traditional big data approaches?
How does blended analytics work with monitoring and other toolset investments? How does it work with service modeling (CMDB/CMS/ADDM and other sources)?
How can change management and performance management insights come together to support new levels of IT effectiveness?
The webinar is Tuesday, November 10 at 10:00 a.m. Eastern. Those who wish to attend can register at:
http://research.enterprisemanagement.com/how-blended-analytics-can-transform-IT-efficiency-and-value-webinar-pr.html
About Enterprise Management Associates (EMA)
Founded in 1996, EMA is a leading industry analyst firm that specializes in providing deep insight across the full spectrum of IT and data management technologies. EMA analysts leverage a unique combination of practical experience, insight into industry best practices, and in-depth knowledge of current and planned vendor solutions to help clients achieve their goals. Learn more about EMA research, analysis, and consulting services for enterprise line of business users, IT professionals and IT vendors at http://www.enterprisemanagement.com or blogs.enterprisemanagement.com.