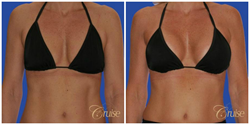 Having my breast reduction surgery with Dr. Cruise saved my life. I had no idea I was living with breast cancer until my breast tissue was sent for testing.
Newport Beach, CA. (PRWEB) October 30, 2015
Newport Beach breast reduction surgeon, Dr. Joseph T. Cruise, is now using his innovative breast sculpting technique with all breast reduction surgeries. This technique reduces more breast tissue than standard breast reductions, which may further reduce the risk of breast cancer.
"With my breast sculpting technique not only are my patients' results superior compared to standard breast reductions, the significant breast tissue removal may also reduce the risk of breast cancer, " explains Dr. Cruise.
To learn more about Dr. Cruise's breast reduction philosophy and technique, visit:
http://orangecountycosmeticsurgery.com
Standard breast reduction has been shown to decrease breast cancer rates, and if found during surgery, can increase the 5 year survival rate.The benefits are more pronounced in high risk patients. Dr. Cruise's new breast sculpting technique reduces more breast tissue than traditional breast reductions performed by other surgeons. The more breast tissue removed, the lower the risk of getting breast cancer. Dr. Cruise sends breast tissue removed from breast reduction surgery to the lab for pathology testing. If testing comes back positive, the patient is notified and can begin seeking medical attention. In these cases, the patient is learning about their health issue earlier than they may have known otherwise. This earlier detection could mean a longer survival rate. The amount of risk reduction is not known.
Dr. Joseph T. Cruise's breast sculpting reduces more breast tissue than traditional breast reductions. In the majority of his breast reductions he also uses a breast implant. The ability to remove more breast tissue is made possible because the soft tissue implant coverage provided by his complete muscle coverage technique. His breast sculpting technique was initially developed to improve his patients' results by creating better breast shape and a more youthful perky look. However, breast sculpting is now being looked at for its breast cancer risk reduction properties.
About Cruise Plastic Surgery:
Cruise Plastic Surgery, located in Newport Beach, Orange County, California, is one of the top plastic surgery practices in the Southern California region. The director, Dr. Joseph T. Cruise, is a fully trained, board-certified plastic surgeon specializing in facelift, breast augmentation, tummy tuck and other cosmetic surgery procedures. Dr. Cruise is also one of the region's best known surgeons for rhinoplasty (nose surgery), neck lift surgery and gynecomastia. His dedication and focus is clearly evident in the comprehensive educationally based web site he manages and the concierge-like customer service his patients receive from the entire office. Experience and predictably good results have earned him the distinction of being one of the best plastic surgeons in Orange County.