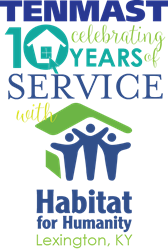 It is companies like Tenmast who truly make it possible for Habitat to work toward our vision that everyone has a decent place to live.
Lexington, KY (PRWEB) November 03, 2015
For the 10th consecutive year, Tenmast Software has partnered with Lexington Habitat for Humanity to build a local family a new home through the "Good Business House" project. This year's house was built for Alexandre Lusembe and Kashindi Alexandre, refugees from the Democratic Republic of Congo. After spending more than 10 years living as refugees, the couple settled in Lexington, KY in 2009. They have four children, ages nine to one year old, and were thrilled that the dream of homeownership was going to become a reality.
Employees at Tenmast were anxious for this build to begin as well, since it was their company's celebratory 10th build year. Tenmast CEO James Mauch created the "Good Business House" project in Lexington in 2006 and every year since then Tenmast has co-sponsored a home-build for a family in the area. This involves providing a monetary donation to help fund the project, as well as a team of workers who give the operation an energetic volunteer workforce. For the past 10 years, this relationship has allowed Tenmast to improve the lives of local hard-working families by helping them build a home of their very own.
Rachel Childress, CEO of Lexington Habitat for Humanity, recalls when the relationship began, "It was a cold, rainy day in October 2006. James Mauch (CEO of Tenmast) and several other Tenmast employees were working to frame Leondra Odum's home so that her family could move in before Christmas. It was clear that James' heart for Habitat's ministry was shared by the staff and thus began the ten year relationship between our organizations."
The partnership between Tenmast and Lexington Habitat is one that has grown immensely since 2006 and is not limited to hammers and nails at the construction site. Childress explains, "In addition to homebuyer family sponsorship, Tenmast provided technology support which significantly improved communication and overall efficiency in our organization. While James and I were hammering nails into boards in the rain, he asked me what else we needed. I had been on the job less than three weeks but knew one of the biggest deficits in our operation was technology. We needed a new server, desktops, software and administration of our systems. James' response to my request was simply, 'We can do that.' And they did!"
Emerged in a culture that focuses on giving back to the community as the company grows, Tenmast employees feel they have a hand in helping other locals while also reaping joy and so many memories from the Habitat volunteer experience. Tim Preston, QA Manager at Tenmast describes, "If anyone ever told me that a perk at an office job would be building houses, I would call them crazy! I have participated in at least 7 of the builds for Tenmast now and they have been more than a perk; they've been very rewarding experiences for me as a person. The biggest perk of all is to witness the joy on the faces of families as the keys are passed on to them."
While Habitat is very appreciative of the work Tenmast has offered over the years, Tenmast employees are quick to note that the families are not the only ones taking something away from these projects. "I'd like to think that our volunteers have made an important contribution to Habitat's families over the years. But I know that the experience we gained by working with these families has given us a better appreciation for the local community that supports us." James Mauch, CEO of Tenmast, says. This feeling is something that is company-wide when you leave the construction site. Greg Hodge, Director of HR, at Tenmast adds, "After participating in this year's build, I left the site with such a feeling of accomplishment that in a small way I was able to help a family realize their goal of home ownership."
Following several months of construction and hours of volunteer work from Tenmast Software and co-sponsor of the build Disciples for Habitat, Alexandre and Kashindi received the keys to their home on September 24, 2015. Many Tenmast employees joined them at the dedication ceremony to celebrate their achievement of homeownership. Tenmast President, Mark Lewis, presented the family with the Habitat Hammer.
Closing their 10th build, Tenmast has their eye on growing and helping Lexington Habitat for the next 10 years. With such a strong partnership, the sky is the limit for Lexington Habitat and Tenmast Software. Childress says, "We are extremely grateful to count Tenmast as a legacy sponsor and greatly appreciate their consistent, faithful and encouraging partnership. It is companies like Tenmast who truly make it possible for Habitat to work toward our vision that everyone has a decent place to live."
Tenmast Software is located in Lexington, KY. Founded in 1984, Tenmast serves Public Housing Authorities & Affordable Housing Organizations with software for Tenant Management, Finance/Accounting, Maintenance, Inspections, Document Management, Compliance, and Executive Decision Making. For more information about Tenmast, visit http://www.tenmast.com.