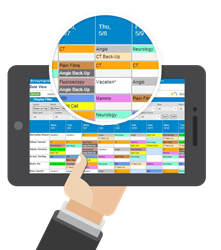 Launching our new Platinum Services takes the Momentum service offerings to the next level.
Rochester, NY (PRWEB) November 02, 2015
The Momentum Scheduling team recently announced the unveiling of the new Platinum Service program, in addition to several software enhancements within the application, all of which are designed to enhance the accuracy and flexibility of staff schedule creation at healthcare organizations.
With the launch of Momentum Platinum Services, both new and existing users of the leading staff scheduling software have access to a new level of support from our already highly-dedicated services team. Included in the Momentum Platinum Service offering is the option for complete schedule creation services, automatic report generation, change management, and schedule distribution services. These paid services are in addition to the already exceptional services offered by the Momentum team.
By utilizing the new Platinum Services offering, current and future users of all sizes can better utilize the inherit benefits of Momentum Scheduling while simultaneously maximizing administrator efficiency without compromising scheduling quality.
In addition to the new services offering, the Momentum Scheduling team also announced a number of brand new features for the application that build on the system's already robust scheduling capabilities. These new features are all designed to enhance the accuracy and precision of each schedule that is created by Momentum. Just to name a few, new functionality includes enhancements to the base rule set that is used to build staff schedules, enhancements to schedule pattern functionality and improvements to schedule communications, specifically schedule notes and messaging. With these new enhancements, Momentum Scheduling continues its mission to create the most precise and accurate schedule with the click of a button.
"Launching our new Platinum Services takes the Momentum service offerings to the next level. Combined with the functionality in Momentum, these additional services make a streamlined scheduling process even more efficient, which provides an additional level of value throughout organizations utilizing the Platinum Services," says Matt Florack, Product Line Manager for Momentum.
The Momentum Scheduling team recently began introducing Platinum Services to existing users, as well as to healthcare organizations around the world looking for more comprehensive scheduling solutions.
About Momentum:
Momentum Physician and Staff Scheduler is the all-encompassing physician and staff scheduling system from the leading healthcare software and service provider Bio-Optronics. Used by over 200 healthcare organizations around the world, Momentum provides organizations with the tools they need to continue to raise the bar in physician and staff scheduling. Bio-Optronics is recognized for consistent, unparalleled service and having dedicated teams that continually ensure its products are constantly meeting and exceeding client and market needs. To learn more about the Momentum Scheduling application please visit our website.