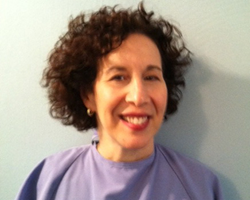 Teaneck, NJ (PRWEB) October 29, 2015
Susan Goldfarb, DMD, is recognizing Dental Hygiene Month this October, by educating patients on the importance of improving their oral health and eradicating gum disease with laser dentistry in Teaneck, NJ. Dr. Goldfarb is proud to offer a revolutionary laser procedure called the LANAP® protocol. This procedure was designed to eliminate gum disease, without the trauma associated with traditional treatment methods. This FDA-cleared option is minimally-invasive and does not require cutting or scalpels.
Gum disease begins with an accumulation of plaque around the base of the teeth and below the gum line. This substance is composed of bacteria and food acid, and should be removed with daily brushing and flossing twice daily, as well as regular professional dental cleanings. Without proper care, plaque calcifies on the teeth and roots, causing irritation and infection, which may deteriorate delicate gum tissue and the supporting structures that anchor the teeth to the jaw. Decay affects teeth as well as the gums, eventually leading to tooth loss.
Most dentists treat gum disease by scraping the calculus from the teeth and cleaning the infection and decay from the gums. This often requires the gums to be cut and pulled back, where the area is exposed for cleaning. The incisions frequently cause excessive trauma to delicate tissues, causing hindered recovery and difficulties with reattachment to the roots of teeth.
People who are interested in a less invasive alternative can now opt for laser dentistry in Teaneck, NJ at Dr. Goldfarb's practice. The small tip of the laser can be inserted below the gum line to easily access damaged tissue, without harming healthy tissue. In addition to cleaning the area, the laser stimulates new tissue growth, cauterizing the gums to allow for minimal bleeding; recovery is measured in days rather than weeks.
People in Teaneck, NJ who are ready to celebrate Dental Hygiene Month, with restored oral health through laser dentistry, can find more information on Dr. Goldfarb's website.
About the Doctor:
Susan Goldfarb is a periodontist offering personalized dental care for patients in Teaneck, NJ since 1984, and was one of the first female periodontists in Bergen County. Dr. Goldfarb received her Doctorate of Dental Medicine degree from the University of Pennsylvania, School of Dental Medicine, and completed a General Practice Residency at Newark Beth Israel Hospital. She went on to receive her Certificate of Periodontics from the Fairleigh S. Dickinson School of Dental Medicine. Dr. Goldfarb is part of one percent of dental professionals providing the LANAP® FDA cleared laser procedure for gum disease and periodontal treatment. Aside from being a laser practice, she also performs BOTOX and facial fillers such as Juvederm Ultra. To learn more about Dr. Goldfarb and her dental services visit her website at http://www.flossnightly.com and call (201) 374-8460.