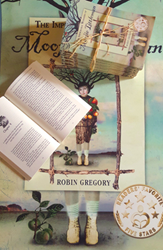 If life were all sunshine and chocolate, there wouldn't be any saints.
Carmel, California (PRWEB) November 02, 2015
Mad Mystical Journey Press just released "The Improbable Wonders of Moojie Littleman," by Robin Gregory, a book for readers of all ages.
Set at the turn of the nineteenth century, it is a heartrending, coming-of-age story, with a dose of humor and magical realism. After his mother dies, eight year-old, disabled Moojie is sent to live with his grandfather at St. Isidore's Fainting Goat Dairy, where he befriends a clan from an alternate universe. Six years later, this forbidden friendship and subsequent events reveal an extraordinary boy's tale of loss and connection, first love, and self-discovery.
Advance praise:
"The book's mysticism is lucidly presented, and its magical realism is effective, moving, and heartening. A lively, original take on a story of a boy with more limits—and more magic—than most."—Kirkus Reviews
"Robin Gregory's writing is both mythical and mystical, carrying the reader along the edges of reality. Moojie's tale is gripping and I couldn't put it down. The message carries the wit and wisdom each of us must use to bring us to who we really are from the inside out!"—Veronica Entwistle, BBS Radio
"Gregory imbues her story with a power and unity that make it a genuine page turner…it simply makes a superb read."—Book Viral
"Wow! Wonderful lyricism and magical reality. Captivating."
—Lisa Rojany, author of award-winning "Surviving the Angel of Death"
"Gregory's storytelling skills are inspired and make this mythologically-based, historical novel a delight to read. Some passages are so lovely that I found myself rereading them to more fully appreciate the masterful blending of sound, sense and meaning."—Reader's Favorite
Latest News:
[Kirkus Reviews __title__ Full Kirkus review] chose it for their December Indie Books of the Month, which puts it in the running for the Kirkus 2016 Indie Books of the Year Award.
Book Viral has nominated it for an award, inviting public votes until March 2016.
"Moojie" made quite a splash at the Frankfurt Book Expo October 14-18, 2015!
"The Improbable Wonders of Moojie Littleman" was one of 23 novels chosen from a list of 806 entrees from 41 countries for the longlist of the UK's 2015 Bath Novel Contest.
ROBIN GREGORY has been by turns a journalist, lay minister, and amateur mapmaker. She lives in California with her husband and son. Visit her website: http://www.MadMysticalJourney.com.
Order "The Improbable Wonders of Moojie Littleman" from your bookstore or BUY HERE
Publisher: Mad Mystical Journey Press
Distributer: Ingram
Genre: Young Adult (12+)
Pages: 294
ISBN: 978-1-942545-002 Paperback $14.00
ISBN 978-1-942545-01-9 eBooks $6.99