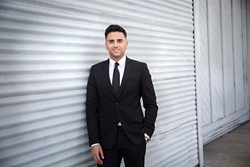 Trained as an engineer, Matt understands and speaks the language of many of our clients, who are young tech engineers like himself.
San Francisco, CA (PRWEB) October 31, 2015
San Francisco-based Climb Real Estate is pleased to announce their affiliation with Matt Wathen, who will join the real estate team as Sales Associate. An accomplished residential real estate agent, Wathen comes to Climb with over 2 years of sales experience in residential general brokerage.
"I was drawn to Climb because of their unique and collaborative approach to real estate, their distinctive marketing aesthetic, and their dominance in District 9," said Wathen. He works with both buyers and sellers, with a primary focus on new construction and lofts in SOMA, Mission Bay, South Beach, Hayes Valley, and the Mission, and partners with well-known San Francisco real estate agent Gail Stark.
"I have hired and trained a lot of real estate agents, and the moment I met Matt, I knew he was special," said Climb Senior Sales Associate Gail Stark. "Trained as an engineer, Matt understands and speaks the language of many of our clients, who are young tech engineers like himself. An added background in new construction has honed his discerning eye. But I sense it is his kindness, thoughtfulness, and innate ability to listen into the heart of things that sets him apart. Did I mention he is also fun to work with?"
After becoming involved in the home-buying process alongside his father, Wathen became an investment property owner himself and currently manages both his own and his family's various rental properties in California. Prior to his career in real estate, Wathen obtained a BS in Mechanical Engineering from the University of California, San Diego, and upon graduating began a career as a project engineer in commercial construction management. Wathen worked at several large-scale construction sites with architects and other engineers and developed a strong knowledge of the construction side of real estate development. This experience is an asset most valuable to his clients purchasing new construction condominiums or lofts. Having earned the USGBC LEED AP credential and worked on two nationally recognized LEED Platinum projects, Wathen is especially well-versed in green building design and construction practices.
Eugene Pak, Climb Sales Manager and the San Francisco Association of Realtors' President-Elect 2016, welcomed the newest addition to Climb's team: "We are delighted to have Matt Wathen join our rapidly growing team. Training in mechanical engineering and a family history in real estate has proven to be an unbeatable combination in Mr. Wathen's exploding career. His extensive experience in the industry, on a variety of levels, will add tremendous value not only to our team but to his newly adopted San Francisco clients. Welcome, Mr. Wathen: we are honored."
Wathen has a passion for architecture and design that propels his love of living and working in the most diverse and fast-paced city in the world. A longtime resident of San Diego, Wathen is also an avid traveler and an enthusiast of different languages and cultures. Before transitioning into real estate professionally, he nourished his love of travel by spending a year abroad living in Europe. Based in Rome, he traveled extensively in Italy learning not just the language, but also the architecture, history, and culture of the country. Aside from traveling throughout Europe, Wathen has also explored Turkey, Japan, Central America, and, most recently, Australia.
ABOUT CLIMB REAL ESTATE
Climb Real Estate is a recognized leader in the marketing and sales of Bay Area residential real estate. The San Francisco-based independent and locally-owned brokerage is proud to be the leader in the purchase and sale of a diverse array of homes: from $80,000 parking spots to million-dollar mansions, new development studios to luxurious view penthouses, live/work lofts to charming bungalows and single-family homes. With over 11 years of experience in marketing and collective sales in excess of a billion dollars, Climb Real Estate offers unparalleled marketing and sales expertise with offices in Potrero Hill, Noe Valley, Mission Bay, and Oakland's Jack London Square.