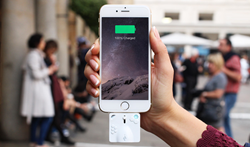 "Right now our main focus is on the manufacturing and delivering the PowerClip. We do however have a pipeline of innovative and exciting products which we will be introducing over the coming months."
London, UK (PRWEB) October 30, 2015
PowerClip, the digital Swiss Army Knife for smartphones, has reached its IndieGoGo target with two weeks left to go on its campaign.
PowerClip is a creation of Mirai Industek. The device offers a variety of solutions for common problems of smartphone users. It functions as an emergency battery, a sounder to locate misplaced keys or phones, a notification if keys are left behind or dropped. It comes in two sizes and stores between 4 and 32 GBs of information, depending on the model that is chosen, and it connects to any Android phone using a microUSB connector, or any Apple phone using Apple Lightning.
Now that they have completed initial funding, Nicholas Tachmintzis, CEO of Mirai Industek Ltd, is ready to move forward with the creation of the PowerClip. "Mirai is in this for the long haul and, with our connection network, we do not anticipate being in a 'development hell' like so many other promising projects in the crowdfunding space." As an MFi certified developer, Mirai already has access to the Apple production network in China, and is planning to have their product constructed in December of this year, delivering it to customers in January and February of 2016.
If backers missed the initial funding round for the PowerClip, there are still many early bird perks left, offering substantial discounts on the anticipated market price of the device.
What comes next for Mirai Industek? Tachmintzis doesn't go into specifics, but he's very clear that Mirai is not designed to be a one-and-done company. "Right now our main focus is on the manufacturing and delivering the PowerClip. We do however have a pipeline of innovative and exciting products which we will be introducing over the coming months."
The PowerClip takes the function of several accessories that many smartphone users love--key finding, emergency batteries, activity tracking--and combines them into one smooth profile. For those who need to be light on their feet, and not carrying around an extra bag just for their cell phone accessories, the PowerClip is going to be a must-have.
To learn more about PowerClip and Mirai's plans to bring it to market, visit their IndieGoGo campaign http://igg.me/at/powerclip/x/5531095 or look for the company on Twitter at @miraipowerclip.