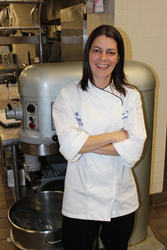 I'm trying to create a story through each recipe.
Oak Brook, IL (PRWEB) November 02, 2015
The Hilton Chicago/Oak Brook Hills Resort & Conference Center has announced the appointment of Erica Tomei as Pastry Chef. In her new role, Tomei will head dessert and bakery operations for the resort's catering functions, restaurant outlets and retail shops. The winner of the American Culinary Federation's 2014 wedding cake competition makes Oak Brook Hills a one-stop-shop for house-made wedding cakes, pastries and other baked specialties, something few hotel kitchens can offer.
"For me, Erica completes the equation," said Executive Chef Sean Patrick Curry, who recruited Tomei from her post at the Chicago Marriott Naperville, where the two previously worked together. "Whether it's a business luncheon or a dinner banquet, I want our guests to have a full restaurant experience. The pastry chef rounds out that vision. It's no longer me telling perspective clients let me see if I can [outsource] something – it's 'yes, tell me what you want'!"
Tomei's style goes hand-in-hand with Curry. Her creations play off his modern farm cuisine, utilizing seasonal ingredients that are sourced locally. According to Curry, Tomei's unique ability for flavor profiling is evident in her beautifully balanced desserts. "She is not afraid to think outside the box, to mix a little sweet and savory." Tomei's gift for combining flavors to create something truly special also translates to the ethnic market. For example, she adds mango to a mousse-filled wedding cake to appeal to the South East Asian culture, which believes mango is the fruit of the gods.
"I never tell a client no to a design," said Tomei. "My role model in the pastry world is Elizabeth Falkner, who dares to be different by looking at her cakes as an art form. Likewise, I put me into every individually-sculpted dish. I'm trying to create a story through each recipe so that when people taste my dessert, they know it's one of mine!"
Tomei brings a variety of signatures to Oak Brook Hills, such as her renowned honey-infused concepts that incorporate fresh honey harvested from beehives located on hotel grounds. Her honey wedding cake, honey truffle, and honey scone have all received notoriety, including a feature write-up in Modern Brides magazine. Above the individual assets Tomei brings to the table, she gives the resort an in-house scratch bakery that can be promoted across several business segments, from the [planned] patisserie retail outlet to the weekly wedding reception.
The Chicago native describes her style as modern classic. "Simply put, I take classic desserts and find ways to distinctively reinvent them with a contemporary twist," described Tomei. One such way is through the cultivating of yeast. For the last six months, Tomei has been nurturing her own yeast strain through a dough starter at home. After it continues to naturally grow, she will eventually use the starter as the base for Oak Brook Hills' new artisan bread. Tomei and Curry have plans to ramp up hotel retail in 2016 with the launch of a patisserie that showcases all of Tomei's pastry specialties, from her award-winning honey cake to her original artisan bread. The patisserie will be open for business to hotel guests as well as the outside public (via walk-in or call-in order).
About Tomei's Background:
Tomei's talents and experience run deep. She started in the industry 14 years ago at a small gourmet catering shop in the western suburbs of Chicago. After four years of learning on the job, Tomei decided to go to culinary school at Kendall College to achieve her degree in baking and pastry. During her time in culinary school, Tomei obtained an internship at the Marriott Michigan Avenue, and worked within Marriott branded hotels for the next nine years. After being at the Marriott Michigan Avenue property for four years, Tomei hungered for a new challenge and jumped at the opportunity to open the new JW Marriott Chicago, a $20 million F&B operation. A little over a year later, she was sought out by Executive Chef Sean Patrick Curry to be the first Pastry Chef at the Chicago Marriott Naperville. Knowing the job would be challenging, Tomei accepted and built a prosperous pastry department in the three years she was there. Tomei now reunites with Chef Curry for another exciting culinary adventure. "We're going to build the western suburb's most successful pastry department at Oak Brook Hills," she proudly asserted.
Tomei has had numerous recent awards and achievements, including:

2012: 1 of 20 competitors in the international three-day pastry competition hosted by starchefs.com in New York City.
2013: 1st place in the celebration cakes category in Iowa through the ACF (American Culinary Federation)
2014: 1st place in the wedding cakes category in Iowa through the ACF
2014: 1st place in the showpieces category in Iowa through ACF
About the Hilton Chicago/Oak Brook Hills Resort & Conference Center:
Just west of downtown Chicago and nestled into the quiet suburb of Oak Brook, Illinois, Hilton Chicago/Oak Brook Hills Resort & Conference Center (3500 Midwest Road, Oak Brook, IL 60523) is a preferred destination for getaways, golf trips, family vacations, weddings and business events. With over 42,500 square feet of IACC certified meetings and event space, the hotel is an ideal venue for business meetings, conferences, retreats, banquets and social functions. The 348 rooms and 38 suites are complemented by extensive and flexible event space including a tented outdoor pavilion, exercise facilities, indoor and outdoor swimming pools, numerous dining options, and the award-winning Willow Crest Golf Club. The property is managed by Westmont-based Portfolio Hotels & Resorts. Visit http://www.oakbrookhillsresortchicago.com/ for reservations or more information, or call the hotel direct at 1-630.850.5555.
Media Contact:
Jody Grimaldi
630.470.0044
Jody(dot)Grimaldi(at)gmail(dot)com