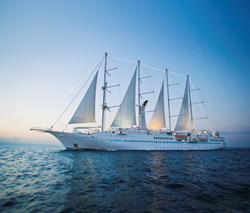 We congratulate our friends at Windstar Cruises for winning this top award
Seattle, WA (PRWEB) October 30, 2015
Windstar Cruises has been named the 2015 Cruise Specialty Partner of the Year for North America by members of Ensemble Travel® Group. The award was made during the Ensemble Travel Group International Conference's Circle of Excellence Gala on October 27. Held at the Omni Orlando Resort at Champions Gate, the recognition ceremony honored Ensemble's top suppliers, as well its top producing member agencies.
The award reflects the input of Ensemble's U.S. and Canadian members based on the selections on three key performance areas: quality of customer service (timeliness and accuracy of communications and documentation, ease of the booking process, and overall problem solving); level of agency support (local sales rep, co-op funds, group support, marketing guidance, product training, and commitment to agency sales channels); and client satisfaction (product delivery, fulfillment of client expectations, and repeat bookings).
"We are thrilled that our Ensemble travel partners have voted us the Cruise Specialty Partner of the Year," said Hans Birkholz, president and chief operating officer of Windstar Cruises. "Our sales teams have been continuously striving to make Windstar easier to do business with through multiple efforts, so it's an inspiration for us to be acknowledged by the agents we partner with every day."
The past few years have seen Windstar Cruises enter into a period of aggressive expansion, doubling the size of the fleet from three sailing yachts to six ships in just two years. Travel agents have been a major contributor to Windstar's strong growth over the last five years.
"We congratulate our friends at Windstar Cruises for winning this top award," said Lindsay Pearlman, co-president of Ensemble Travel Group. "Windstar's branding message of 'luxury as you like it' really resonated with our members in both the U.S. and Canada and this award is a very public way of affirming that."
About Windstar Cruises
Windstar Cruises operates a fleet of small luxury cruise ships known for its intimate yacht style experience and unique voyages to the world's best small ports and hidden harbors. Its three recently renovated sailing yachts carry just 148 to 310 guests and cruise to 50 nations, calling at 150 ports throughout Europe, the South Pacific, the Caribbean, and Central America. In May 2014, Star Pride, the first of three newly acquired power yachts, joined the fleet. In May 2015 the company launched Star Breeze and Star Legend. The power yachts, with a capacity of 212 guests each, double the size of Windstar's fleet, making the company the market leader in small ship cruising with 300 or fewer passengers, with a total of 1,242 berths. Windstar Cruises is a part of Xanterra Parks & Resorts®, which is known for its "Legendary Hospitality with a Softer Footprint," Xanterra's entities include lodges, restaurants, tours and activities in national and state parks, as well as resorts, a cruise line, railway and tour companies.