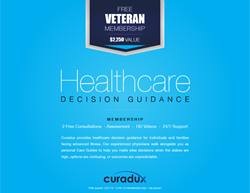 AUSTIN, TX (PRWEB) November 02, 2015
In honor of our nation's veterans, Curadux is proud to announce ten complimentary memberships for veterans in need of healthcare decision guidance for themselves or a family member due to advanced illness. Membership includes a proprietary values and goals assessment, two consultations with an experienced physician serving as a personal Care Guide, HD videos, and 24/7 support.
"As a veteran who contracted my own disease during my military service, it's an honor to help my fellow veterans and their families live well in advanced illness by making wise decisions about their care," said David Brown, founder of Curadux. "For those veterans who have been waiting in lines for guidance on their care options, we're here to help you and your families."
Curadux Care Guides help patients and families thoroughly assess their values and goals, understand the detailed implications of their options prepared by their medical teams, and ultimately document their healthcare decision, while also alleviating pressure on their primary care physician. The offer is limited to ten veterans on a first-come, first-serve basis and will run through December 31, 2015. To be eligible, a veteran must submit DD Form 214 to prove their veteran status.