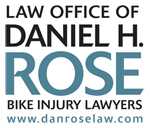 The baddest bash for bicyclists in the Bay and beyond
San Francisco, California (PRWEB) October 30, 2015
The Law Office of Daniel H. Rose is once again proud to be the Presenting Sponsor of Bike East Bay's Biketopia, a celebration and fund raiser, being held in Oakland on November 12, 2015 from 6:30 pm to 10:00 pm at the Impact Hub at 2323 Broadway. Bike East Bay, formerly known as the East Bay Bicycle Coalition, is the San Francisco East Bay's primary bicycling advocacy organization.
The Biketopia bash is Bike East Bay's annual winter party and fundraiser. Typically attended by several hundred enthusiastic fun-loving bicyclists, it is an evening of delicious food, music, positively energetic socializing, and an enticing silent auction. This year's auction includes such great items as a bike tour of Thailand, Warriors basketball tickets, bicycles, bike gear, and many others.
The mission of Bike East Bay, founded decades ago, is to promote healthy, sustainable communities by making bicycling safe, fun and accessible. Through advocacy, education, and community involvement, it energetically works to support the development of a vast and seamless network of bicycle facilities, cultivates bicycle and people friendly street design, increase funding for bicycle projects and improvement, educate the public through partnerships with law enforcement, schools, employers, riding clubs, and others, and increase awareness and appreciation of bicycling. Our lawyers have the utmost respect and admiration for Bike East Bay's tireless and effective work and numerous significant accomplishments.
The Law Office of Daniel H. Rose is a firm specializing in the legal representation of injured bicyclists and pedestrians in the San Francisco Bay Area, with more than three decades of experience. The firm counsels bicyclists throughout Northern California and is widely known for his successful representation of hundreds of traffic accident victims.
LAW OFFICE OF DANIEL H. ROSE
One Sansome Street, Suite 3500
San Francisco, California 94104
Tel: (415) 946-8900 Fax: (415) 221-0892
danrose(at)danroselaw(dot)com