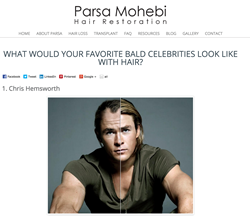 It is really hard to imagine some celebrities being where they are today if they did not have their solid hairline. - Parsa Mohebi, MD
Los Angeles, CA (PRWEB) October 30, 2015
Have you ever wondered what your favorite celebrities would look like without hair? Would you trust politicians as much if they had a different look thanks to having less hair or even no hair at all? What is normally a fun "what if" game for many people is now an ongoing series started by internationally recognized hair transplant surgeon, Dr. Parsa Mohebi. Dr. Mohebi and his staff take photos of celebrities and prominent politicians and, through the magic of Photoshop, show the public what these famous people would look like with little to no hair.
Since Dr. Mohebi and his staff strive to educate patients about the art of hair transplants, many of the photos spotlight the dangers of receiving an inferior hair transplant. Two recent examples include Vice President Joe Biden and Republican presidential candidate Donald Trump. The list of celebrity hair subjects includes politicians, sports figures and some of today's biggest movie stars.
The photos, which can be found in the Celebrity Hair Transplant section of Dr. Mohebi's website, show that celebrities are just like us in many ways. The need to find an experienced doctor to perform a hair transplant procedure is an essential first step in the hair transplant process.
According to Dr. Mohebi, "We have looked at many successful celebrities and have noticed that there might be a close relationship between a perfect hairline and somebody's success. It is really hard to imagine some celebrities being where they are today if they did not have their solid hairline."
While the photo series is a lighthearted way to spotlight the realities of inferior hair transplants, the purpose of the series is to provide serious information for potential and former hair transplant patients. The more information a person has going into the hair transplant process, the better their chances are of being satisfied with their final results.
About Dr. Parsa Mohebi:
As former chairman of the FUE Research Committee and creator of several methods and techniques in modern hair restoration, Dr. Mohebi, along with his incredible staff, provides the most advanced techniques in the industry. Dr. Mohebi prides himself in advancing new research and developing the latest technology to improve the quality of hair restoration. The overall goal at his office is to restore patient's self-esteem through the use of quality hair restoration techniques.