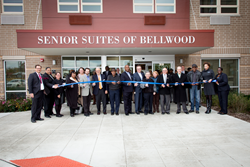 In contrast to other affordable senior housing complexes, Senior Suites of Bellwood, located at 3201 Randolph Street, offers daily resident programming, weekly transportation services, à la carte dining options and a daily "Up and About" resident check-in
Chicago, Ill.. (PRWEB) October 30, 2015
Residents 62 years and older living in the near western suburbs have a new housing option with today's opening of Senior Suites of Bellwood, an 89-unit affordable senior living community developed by Senior Lifestyle Corporation. The project's opening also brings employment opportunities for the local community.
To commemorate the opening, a ribbon cutting ceremony was held with those who helped create the affordable housing community, including Frank A. Pasquale, PhD, Mayor, Village of Bellwood; Illinois State Representative Emanuel Welch; Rev. Curtis Cobbs, Pastor, First Baptist Church of Bellwood; Charlotte Flickinger, Director of Legislative Affairs, Illinois Housing Development Authority; and Julio Guerrero, Vice President of Institutional Advancement, The Resurrection Project, along with Bill Kaplan, Chairman of Senior Lifestyle and President of Senior Suites Chicago Corporation. Representatives of NORR Illinois, the project architect, Henry Bros., the general contractor, and BMO Harris Bank, the financier, were also on hand.
In contrast to other affordable senior housing complexes, Senior Suites of Bellwood, located at 3201 Randolph Street, offers daily resident programming, weekly transportation services, à la carte dining options and a daily "Up and About" resident check-in program. Rent starts at $650 per month; and thanks to the Housing Authority of Cook County, a limited number of apartments receive rental subsidies. As Senior Lifestyle's non-profit partner and co-developer of Senior Suites of Bellwood, The Resurrection Project will provide ongoing programming for residents of the community.
Each apartment features specially designed amenities to meet the needs of older adults. Studio and one-bedroom units offer a full kitchen, a bath with grab bars, individually controlled heating and cooling, and wheelchair accessibility. Senior Suites complexes area members of a family of senior living communities that provide superior service and exceptional value. Residents are at least 62 years old and must meet certain income qualifications. Additional community features include:

Spacious, modern-designed apartments including heat, electic and air conditioning
All utilities (except phone and cable television)
Free laundry facilities on each floor
Monthly housekeeping
Planned social activities
Emergency pull-cord system
Spacious community rooms with TVs and DVD players on each floor
Entry security system
On-site parking
"Providing additional affordable senior housing to this neighborhood has been a goal for many for several years, and our team is ready to welcome residents and their families," said Bob Gawronski, vice president of Development and Acquisitions for Senior Lifestyle Corporation.
Gawronski credited the Illinois Housing Department Authority for allocating the Low Income Housing Tax Credits and Illinois Affordable Housing Tax Credits that directly generated more than $14.7 million of private equity investment in the senior housing community located just 13 minutes from O'Hare and 12 minutes from Chicago. Gawronski said tax credit programs allow Senior Suites of Bellwood to remain affordable for decades to come.
###
About Senior Lifestyle Corporation: Founded in 1985, Senior Lifestyle Corporation is a family-owned company promoting healthy, happy residents through an unmatched level of service. Serving seniors at all economic levels and all levels of care, including independent living, assisted living, memory care and skilled nursing, Senior Lifestyle's award-winning programs are recognized for their creativity and innovation in improving the lives of both residents and their families. Senior Lifestyle employs dedicated staff members who are passionate about their work and care for every resident like family. For more information on the communities, visit http://www.seniorlifestyle.com.
About The Resurrection Project: After 25 years and an initial seed capital of $30,000 from area parishes, The Resurrection Project has become a powerful and effective social enterprise that seamlessly blends community development, community organizing, and advocacy with human services delivery to create vibrant, healthier and involved communities. Their efforts have resulted in leveraging $346 million in community investment.