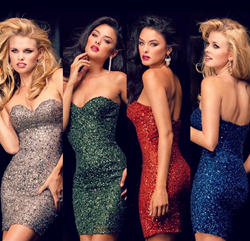 Los Angeles, California (PRWEB) November 02, 2015
Paris Dress, one of the world's most popular online fashion stores, has announced the arrival of their latest collection of designer dresses. The site offers the largest collection of dresses suitable for every occasion and shoppers the world over are clamoring to get their hands on the latest arrivals.
The trends embodied by the dresses available on Paris Dress (http://www.parisdress.com) tie in very closely with what some of the top fashion houses around the world are offering. Whether shoppers end up with a prom dress or evening gown, there is no denying that they will look like they just stepped off the haute couture runway.
Staying in vogue is not an easy thing to do, especially when shopping at traditional stores as it takes up more time and energy than necessary. With Paris Dress, fashionistas and shopaholics now have an outlet to head to every time they are in need of a stylish designer dress minus the stress. By offering shoppers everything from a flexible return policy to topnotch customer service, Paris Dress embodies all that is wonderful about online shopping. However, it is not the perks that have shoppers coming back for more but rather, the vast collection of designer dresses. Here are some of Paris Dress' most popular collections:
Evening Dresses
Whether shoppers are playing the role of enthusiastic bridesmaid or deserving prize recipient, there is no denying that putting on the perfect evening dress for an important event is key to impressing everyone around. Paris Dress is pleased to offer one of the most impressive collections of evening dresses in the world. With contributions by top labels such as Tony Bowls and Rachel Allan, shoppers are spoilt for choice when it comes to looking good. Popular evening dresses come from the Tony Bowls Collection and range from demure and sexy, to sweet and irresistible. From Toy Bowls' red hot II4C4I Long Dress to the virginal white 214C69 Long Dress, there is no denying that everything within the collection is stunning and sure to impress even the most jaded fashion lovers.
Homecoming Dresses
When it comes to homecoming dresses, the Faviana 7675 Long Dress takes the cake for being the most sizzling within the fall collection. Made from high quality chiffon and available in either red, ivory or navy, this gown will be sure to make the wearer the belle of the ball. From celebrity inspired dresses to some of the hottest trends to hit the runway, there is no shortage of beautiful dresses to choose from within Paris Dress' homecoming collection.
Plus Size Dresses
Whether shoppers are seeking party dresses or cocktail dresses, there is no shortage of plus size dresses at Paris Dress. One of the company's goals is to make shopping simpler and more fun for every woman and by offering beautiful dresses sized at 14 and up, Paris Dress has sealed it fate as one of the most comprehensive fashion sites in the world. Whether shoppers want to flatter and accentuate their assets or disguise their flaws, there is no shortage of stylish options for those looking for something beyond the usual options available to plus sized women.
Pairs Dress also offers divine wedding dresses, bridesmaid dresses and prom dresses. To view all the collections or to find out more about Paris Dress, head to http://www.parisdress.com or call (855) 804-0515 today.