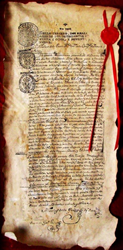 It is a great day to have our Hispanic ancestors so honored by the Governor of Arizona.
Tubac, Arizona (PRWEB) October 08, 2015
In celebration of Hispanic Heritage Month which honors the contributions of those Hispanics who were instrumental in shaping the history and culture of our nation, we are delighted to host a special presentation to the Otero family with a special proclamation by Governor Ducey proclaiming Sunday, October 11, 2015 as Don Torivio de Otero Day in recognition of his role as

Arizona's first European private landowner;
Arizona's first European lay teacher; and
the first European private landowner to construct an irrigation system.
Don Torivio was awarded his land grant by the King of Spain on January 10, 1789, three months before George Washington became president of the United States. A petition dated January 26, 1807 documented his many years as a teacher and his work building dams and ditches on his property which is now the Tubac Golf Resort & Spa. Both of these documents are stored in the National Archives Pacific Region and the land grant is the most ancient document in their holdings.
Diana DeLugan, an eighth generation descendant, will speak on her illustrious ancestor in Otero Hall, a building donated to the village of Tubac in 1914 by Don Torivio's great grandson. The Governor's proclamation encourages visitors throughout the state to discover the rich history at Tubac, "Where Art & History Meet."
Refreshments will be served. Call 520-398-2252 to make your reservation today. $7.50 fee includes admission to tour the Park.
This event is sponsored by Tubac Historical Society, Pimeria Alta Historical Society, and the Friends of the Tubac Presidio and Museum. Tubac Presidio State Historic Park is located at 1 Burruel Street in Tubac, Arizona at Exit 34 on I-19 south of Tucson. For information about events in Tubac, Arizona visit http://www.TubacAZ.com.