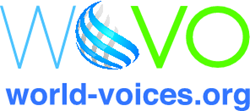 "We had no idea when we founded the organization in 2012, that our vision would so quickly capture the support of hundreds of like-minded voice-actors."
Las Vegas, NV (PRWEB) October 02, 2015
The "voice" of voice actors -- World-Voices Organization Inc., (WoVO) -- reached the milestone of 500 members in September, based on a recent surge of applications.
Enthusiasm for the industry trade association representing freelance voice actors accelerated significantly in 2015, the third year of operation for the non-profit organization.
"We had no idea when we founded the organization in 2012, that our vision would so quickly capture the support of hundreds of like-minded voice actors," said Dave Courvoisier, who just recently rose to the position of president of WoVO. Courvoisier replaced the first president of WoVO – Dustin Ebaugh – earlier this year. "Without Dustin's guidance and steadfast adherence to strong principles, this growth never would've happened," said Courvoisier.
WoVO advocates for the voice acting profession. The association promotes, educates, mentors, and generally represents the needs of voice talent in the marketplace. WoVO accepts union and non-union members, and qualifies all applicants into either an "associate" or "professional" membership category. The qualification is based on a vetting of the applicant's work history, and is voted on by an Executive Board of 10 officers.
World-Voices Organization, Inc. recently launched a technical certification standard for its professional members who wish to establish their status as a knowledgeable audio technician.
Also, WoVO is actively promoting its new online directory that lists all its professional members, their profile, and their demos. VoiceOver.biz asserts on the website: "All the voices you need…and all proven pros." People looking for voice actors for their projects can peruse the listings, request auditions from talent they choose to hear, and hire for their projects, all at no cost. WoVO members in the professional category enjoy the exposure on this site as a bonus of their membership.
WoVO creates online communities of members and prospective members in Facebook Groups, a LinkedIn Group, during bi-monthly #WoVOChats, international virtual meetup groups, monthly newslettters, and an annual Conference (WoVOCon), usually held in Las Vegas in April.
WoVO was founded by board members Ebaugh, Courvoisier, Chris Mezzolesta, and Dan Lenard. Other board members include Peter Bishop, Randye Kaye, Brad Venable, Elizabeth Holmes, Katherin Vasilopoulos, Pam Lorence, and Karyn O'Bryant. A 5th founder, Atty Robert Sciglimpaglia, is the organization's counsel, but does not participate in board votes.
WoVO has international members representing all continents except Antarctica (for now).
Voice actors interested in joining this vibrant world-wide community of voice actors can enroll for a one-time $25 application fee, and an annual $49 membership fee by visiting the World-Voices Organization, Inc. website.