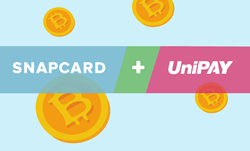 San Francisco, California (PRWEB) October 30, 2015
Snapcard, a leading Bitcoin wallet & bitcoin payment processor, has partnered with UniPAY, an e-wallet company and payment service provider based in the country of Georgia.
The partnership gives 55,000 active UniPAY users the option to activate a new cryptocurrency account, enabling users to send and receive Bitcoin, Litecoin, Dogecoin, and to convert between local currency and digital currency.
As one of the largest payment service providers in Georgia processing payments for local mobile carriers, internet service providers, airlines, utilities companies, and gaming sites, UniPAY will also start offering Bitcoin as a payment method to merchant partners.
"With this partnership, UniPAY users can now pay for goods and services at more than 100,000 e-commerce sites that accept Bitcoin around the world," said Jack Jia, Head of International Growth at Snapcard. "This is a very exciting use case for Bitcoin, to help citizens of a small developing country to gain access to the global economy."
"Right now, visitors cannot always use their international cards to pay for goods and services in Georgia-- he Bitcoin option will help break down those frictions and barriers," said Koba Kurdadze, CEO of UniPAY. "We are very happy to have partnered with Snapcard to launch this exciting new product for our users and merchants."
With 148,000 registered wallet users, UniPAY will initially turn on the Bitcoin option for 55,000 fully verified members.
About Snapcard Inc.
Founded in 2013, Snapcard offers a suite of products and services designed to make it easy for consumers and businesses to use Bitcoin and blockchain technologies. Snapcard's Bitcoin e-Wallet is the world's easiest way to buy and sell bitcoin. Snapcard's merchant product enables retail and online businesses to accept bitcoin as a payment method. Snapcard MassPay, a cross-border payment service, is an enterprise-level API which allows companies to instantly send funds worldwide, without taking on any price volatility, and for a fraction of the cost. SNAPCARD is headquartered in San Francisco, with offices in Australia, and Canada.
About UniPAY
UniPAY is a popular e-Wallet service that enables quick, easy and secure online payments in Georgia. Users simply need to register for a UniPAY account and load it with funds online or at one of the supporting outlets. UniPAY is a safe and secure payment option for customers who prefer not to release their card details online. Founded in 2010, UniPAY operates throughout CIS countries and is headquartered in Tbilisi, Georgia.