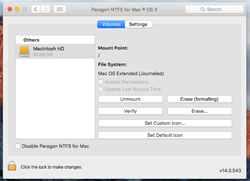 (PRWEB UK) 30 October 2015
Paragon Software Group, the technology leader in data security and data management solutions, announces a major update to Paragon NTFS for Mac® 14 – the market leading solution to solve incompatibility issues between OS X and Windows. Paragon NTFS for Mac 14, released on September 30th, offers the fastest read and write access ever for NTFS volumes in Mac OS X – as internal tests have proven: https://www.paragon-software.com/home/ntfs-mac/product_performance.html
The new update makes Paragon Software the first developer to overcome the functional limitations of the latest version of OS X Disk Utility in El Capitan. Earlier versions of OS X allowed to easily format volumes in Disk Utility by implementing third-party file system drivers, but these functions are no longer available in OS X 10.11 El Capitan. Addressing customer needs, Paragon NTFS for Mac 14 makes intuitive data media formatting possible once again. Furthermore, the product now allows users to check the file system integrity of NTFS volumes and repair them, if necessary. Instead of configuring command-line tools, the volume management functions can now be easily accessed directly through the program's graphical user interface.
New and key functions:

New! Volume management functions for NTFS volumes.
Ultra-quick read and write access to NTFS files in OS X.
Supports OS X El Capitan.
Supports all versions of NTFS.
No limit to file or partition sizes (within NTFS and OS X constraints).
Supports special NTFS functions in OS X El Capitan such as resource forks, hardlinks, symlinks and file permissions (POSIX file attribute).
The transfer rate during file operations on NTFS partitions is just as good as it is for operations on native HFS partitions.
Unparalleled stability – even during peak system utilization!
Simply install it and go to work. No further system adjustments are necessary once it has been installed.
System requirements
OS X El Capitan 10.11 and back to 10.8.
Availability:
Immediately available for download for € 19.95 at: http://www.paragon-software.com/home/ntfs-mac/
About Paragon Software Group:
Paragon Software Group is an innovative software developer focused on two dynamic growth markets. The company's comprehensive product line for the data storage market addresses the needs of data security, storage and management for PCs, servers and networks. A second portfolio of products focuses on mobile productivity applications for handheld devices. Founded in 1994, Paragon Software has offices in the USA, Germany, Japan, Poland and Russia, delivering its solutions to consumers, small business and enterprise clients worldwide through a network of Value Added Resellers, distributors and OEMs as well as online through the company website. Paragon Software provides technology to a host of world-class companies and partners including Belkin, Bosch, Cisco, D-Link, Dell, Toshiba, HP, Western Digital Corp., ASUS, Seagate, LG Electronics, Logitech, Buffalo, Acer, EMC/Iomega, Siemens, Lenovo, Microsoft, Motorola, Nokia and ZTE. For more information please visit the company website at http://www.paragon-software.com.