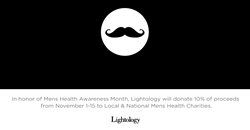 On behalf of Lightology, we are thrilled to support and donate to a cause that advocates men's physical and mental health
Chicago, IL (PRWEB) November 01, 2015
"On behalf of Lightology, we are thrilled to support and donate to a cause that advocates men's physical and mental health," says Lightology President Greg Kay. "The Movember Foundation brings courage to those struggling with illness, promotes mental health and wellness, and strives to educate the world on lifelong wellness for men."
Men's health is a pressing issue that deserves our attention but receives little acknowledgment. The average male life expectancy is six years less than that of women. Health concerns including prostate cancer, poor mental health, testicular cancer, and physical inactivity often go unrecognized as important but neglected topics of conversation at regional, national, and global levels. The outcomes of ill-health, both mental and physical, have equal effects on family, friends, work spaces, significant others, and not least of all the man himself.
Lightology is happy to contribute to causes that champion men's health and increase emphasis on the subject's importance. The Movember Foundation began in Australia (2003) after two friends, Travis Garone and Luke Slattery, decided that the moustache needed to make a comeback. The Movember movement involves growing a moustache (or mo') through the month of November as a symbol of support while raising money for men's health at the same time. In 2004, Adam Garone hopped on board, registering the Movember Foundation and building a website. Justin Coghlan later joined to get things rolling in Queensland. The Foundation steadily grew, gaining popularity in countries around the world, and in 2007 the U.S. joined the cause. The Movember Foundation has funded over 1,000 projects dedicated to men's health, coordinates with 20 men's health partners, and has participants in 21 countries. The ever growing success of the Movember movement can be credited to an expanding community committed to transforming the nature of men's health.
Lightology is grateful as well as humbled to give back to a cause that demonstrates the importance of men's mental and physical health, keeps the public informed, and supports both local health programs as well as international research.
About Lightology
Based in Chicago, Lightology now has an outstanding selection of quality contemporary, modern, and transitional lighting fixtures from over 400 manufacturers. Design masters such as Mariano Fortuny, Tom Dixon, Marcel Wanders, David Trubridge, and Verner Panton are well represented. Visitors can shop our spectacular 20,000 sq. ft. Chicago showroom or our website, which features a live inventory that is constantly growing and a Project Manager layout tool that lets you easily lay out larger lighting projects. At Lightology, our goal is simple: to be the premier contemporary lighting company for both homeowners and design professionals. Browse our selection of modern lighting products.