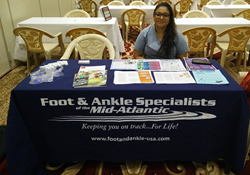 Beltsville, MD (PRWEB) November 02, 2015
Hetal Kathrotiya-Mago, DPM(Silver Spring Division) of Foot and Ankle Specialists of the Mid-Atlantic (FASMA) participated in the annual BAPS Washington D.C chapter Charity Health Fair on September 20, 2015 in Beltsville, MD. Over 133 physicians and medical professionals volunteered to offer personal consultations to a total of 614 participants. The participants gained insights on healthy living and awareness. This event was covered by many different specialties including Podiatry, Orthopedics, Endocrinology, Dermatology, and Cardiology. Dr. Kathrotiya-Mago was the only Podiatrist at the fair and provided foot screenings, educating patients regarding diabetic foot care and proper footwear to prevent injuries.
Dr. Hetal Kathrotiya-Mago joined the Silver Spring Division of FASMA in July. She is a native of Maryland, having grown up in Laurel, MD. She graduated with academic honors from University of Maryland, Baltimore County, with a Bachelor of Science in Biological Sciences and a Bachelor of Arts in Psychology.
Dr. Kathrotiya-Mago received her Doctorate of Podiatric Medicine from Temple University, School of Podiatric Medicine in Philadelphia, PA. While in podiatric medical school, she actively served on the boards of the Diabetic Awareness Club, American Association of Women Podiatrists and the American Professional Wound Care Association. During a three-year comprehensive foot and ankle surgical residency at Roxborough Memorial Hospital (Prime Healthcare) in Philadelphia, PA, Dr. Kathrotiya-Mago was selected to serve as the chief resident during her final year. Although she enjoys all aspects of podiatric medicine and surgery, Dr. Kathrotiya-Mago has a particular interest in dermatology, sports medicine, reconstructive surgery, diabetic wound care, and limb salvage, and treats patients of all ages. A team-player with a deep dedication to serve her patients, Dr. Kathrotiya-Mago strives to make them informed and active participants in their foot and ankle care.
FASMA has 22 locations throughout Washington, DC, Maryland, and Virginia. For more information on Dr. Kathrotiya-Mago and Foot and Ankle Specialists of the Mid-Atlantic, and to find a location near you, visit our website.