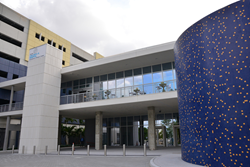 MIAMI (PRWEB) October 30, 2015
The Miami Children's Hospital Ambulatory Surgery Center, founded in collaboration between Miami Children's Health System and a group of physician partners to enhance access to world-class pediatric surgical care for the pediatric population, is now open to the community. The center is the first outpatient surgery center devoted to pediatric surgical services in the region.
The 16,400 square-foot, state-of-the-art, facility is located on a two-acre leased parcel on the Florida International University, University Park campus. The center features five operating rooms and one procedure room for children from birth to 21 years of age to support a range of minor pediatric surgical services including dentistry, gastroenterology, otolaryngology, orthopedics, plastic surgery and urology, among others.
Dr. Chad Perlyn, Pediatric Plastic Surgeon on the medical staff at Nicklaus Children's Hospital and Medical Director for the Miami Children's Hospital Ambulatory Surgery Center, said, "The center was created with the needs of our patient and families in mind. Studies show that patients and families generally prefer the scale and convenience of an outpatient center when undergoing a minor procedure."
The Ambulatory Surgery Center is conveniently located near major highways and is devoted exclusively to children ages birth to 21. The center is staffed by pediatric anesthesia providers, nursing professionals experienced in pain management and IV placement for children and has specialized pediatric-friendly equipment that caters to the growing child. The child and family-friendly amenities and spacious waiting areas create a more comforting environment for families.
"Miami Children's Health System is privileged to collaborate with some of the region's finest pediatric surgeons in the creation of this new outpatient surgical facility. We are committed to being where the children are and offering the community enhanced access to pediatric services. The Ambulatory Surgery Center is an important new offering in our growing network of community-based pediatric care service centers," said Dr. Narendra Kini, President and CEO of Miami Children's Health System.
For more information on the Miami Children's Hospital Ambulatory Surgery Center, please visit http://www.mchasc.com
For photos of the center, please visit: http://www.mchasc.com/for-patients/photo-tour/