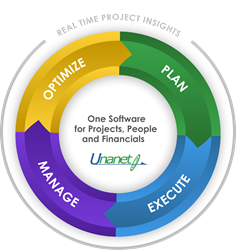 Dulles, VA (PRWEB) October 30, 2015
Unanet, a developer of software that helps project-driven organizations manage projects, people and financials in one integrated system, announces the promotion of Amy Allen, Ellen Craig, and Dave Johnson to Vice President of Solutions Engineering, Consulting Services Group, and Product Management respectively.
Amy Allen has been with Unanet since 2008, utilizing her experience with various General Ledger packages and mastery of Unanet software to benefit customers and employees. Having previously held a position in Unanet's Professional Services Team, Amy is responsible for supporting the entire Unanet customer-facing team including the Business Development, Unanet University, Professional Services, Customer Account Management, Customer Success, Support, and Integration teams in the promotion and delivery of Unanet Financials. Prior to Unanet, Amy was a controller at a government contractor and provides deep understanding regarding delivering value and successful outcomes to Unanet customers.
Ellen Craig has been with Unanet since 2009, and has been an instrumental part of Unanet's growth as the Professional Services Team expanded. Ellen has been an integral part of the Services Team in implementing some of Unanet's largest clients and continues to be a go-to person for complex engagements. Additionally Ellen oversees the Knowledge Center resource for customers and internal employees, imparting her vast knowledge with all parties to encourage Unanet best practices. Ellen is now responsible for leading the Unanet consulting team implementing Unanet software for project management and financials.
Dave Johnson has been with Unanet since 2011, leading the way in taking Unanet Financials from initial requirements definition through to general availability in July 2015. Dave is responsible for working closely with the Development Team to deliver Unanet's largest single release. Also, Dave has directed major improvements in capabilities for project accounting and invoicing in Unanet in the journey to deliver a full, Project-Based ERP system. Dave also leads early education programs on product capabilities.
About Unanet: Unanet is a leading provider of Cloud and On-Premise software for project-based organizations. Unanet delivers skills management, resource planning, budgeting & forecasting, time & expense reporting, billing & revenue recognition, project management analytics and dashboards, and integrated financials with AR, AP, GL and cost pool calculations. Over 1,000 organizations rely on Unanet to maximize staff utilization, reduce administrative costs by 90%, improve invoicing by 10X, and support forward decision-making for improved operations.