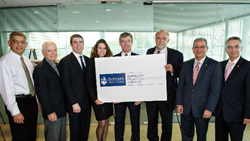 We're creating the next step, the momentum to move into topics like data analytics and data visualization that weren't on the agenda just five, six years ago.
Hoboken, NJ (PRWEB) October 30, 2015
Alumnus Optimistic About Opportunities New Facility Will Offer Students
One of the best reasons to study finance at Stevens Institute of Technology is about to become two of the best reasons.
In 2012, a gift from John J. "Sean" Hanlon IV '80 and his wife, Cathy, allowed Stevens to open the Hanlon Financial Systems Lab, a state-of-the-art facility with Bloomberg terminals, real-time and historical market data, and software packages that can conduct trading simulations and develop financial models.
On Oct. 29, Hanlon, a trustee, and his family announced another generous donation that will include funding for a new research and teaching lab to expand the opportunities available to students who study finance at Stevens. The new lab, scheduled to break ground in May, will feature additional Bloomberg terminals and data analysis tools, but with a greater emphasis on data visualization technologies as they apply to finance. This lab will also be laid out as a series of trading desks, to inspire greater collaboration and further mimic the Wall Street feel of the center. It will be called the Hanlon Laboratory for Financial Analytics and Data Visualization.
"When I joined the board in December of 2010, I said that Stevens was a $25 stock headed to $100," Hanlon said during a dedication ceremony. "I'm here to tell you that it has exceeded $100 a share, and if you will permit me the Wall Street metaphor, I'm going to up my target price. Stevens is headed for $500 per share."
Finance is a major driver of the optimism surrounding the future of Stevens. A significant percentage of Stevens graduates go on to careers in finance, and the demand for professionals who understand both finance and the technology rapidly disrupting is hard to overstate: The undergraduate degree in Quantitative Finance, for instance, has a 100 percent six-month placement rate, with many of those graduates getting multiple job offers.
Daniela Cardona, a junior in the Quantitative Finance program, spent last summer as an intern in the investment management division at Goldman Sachs. Next summer, she'll be an intern in the global investment banking program of RBC, and she credits the relevance of her Stevens coursework with helping her get in-demand assignments.
"I didn't want to attend a traditional business school — I wanted a technology focus and I wanted a business focus, and the Quantitative Finance program at Stevens did just that for me," Cardona said during the event. "I would not be where I am if it weren't for this program."
Stevens President Nariman Farvardin said he's excited about the possibilities the second lab will create for more students like Cardona and Dakota Wixom, another Quantitative Finance student who spoke at the event.
The first lab "has exceeded every one of my expectations," Dr. Farvardin said. "This laboratory has been the catalyst for advancing the university's strength and visibility in this critically important area."
The lab's dramatic view of the Manhattan skyline is representative of the opportunities it creates for students and faculty researchers to directly connect to industry for internships, jobs, networking, guest lectures, and consulting and research projects.
"Our opportunity for success comes from industry across the river," said Dr. George Calhoun, director of the Hanlon Financial Systems Center. "It has undergone an upheaval. … The New York Stock Exchange, 10 years ago, it had 87 percent market share. Today it's about 20 percent, because they fell behind the technology curve. That's driving this industry to Stevens, to find the things we're good at — quantitative methods, computer science, engineering."
The new facility, which will open on the ground floor of the Babbio Center, "is going to be unique in the country," Calhoun said. "We're creating the next step, the momentum to move into topics like data analytics and data visualization that weren't on the agenda just five, six years ago."
That momentum is especially strong on the graduate side. This fall, the School of Business launched a master's degree in Finance with a unique curriculum that teaches the traditional financial disciplines through the lens of technology — part of the way the school keeps the innovative, problem-solving DNA of Stevens in its programs. Stevens also offers an MBA in finance and a master's in Financial Engineering, among others.
About Stevens Institute of Technology
Stevens Institute of Technology, The Innovation University®, is a premier, private research university situated in Hoboken, N.J. overlooking the Manhattan skyline. Founded in 1870, technological innovation has been the hallmark and legacy of Stevens' education and research programs for 145 years. Within the university's three schools and one college, more than 6,800 undergraduate and graduate students collaborate with more than 380 faculty members in an interdisciplinary, student-centric, entrepreneurial environment to advance the frontiers of science and leverage technology to confront global challenges. Stevens is home to three national research centers of excellence, as well as joint research programs focused on critical industries such as healthcare, energy, finance, defense, maritime security, STEM education and coastal sustainability. Stevens is in the midst of a 10-year strategic plan,The Future. Ours to Create., designed to further extend the Stevens legacy to create a forward-looking and far-reaching institution with global impact.
National attention to the outstanding quality of a Stevens education continues to grow. Stevens is consistently ranked among the nation's elite for return on investment for students, career services programs and mid-career salaries of alumni. Learn more about the university's Rankings and Recognition.