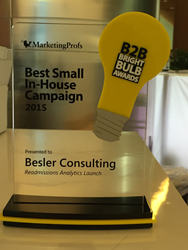 "We are honored to have won a Bright Bulb B2B Award. Our Readmissions Analytics campaign is an excellent example of how firm-wide collaboration, creativity, and persistence can deliver remarkable business results."
Princeton, NJ (PRWEB) October 30, 2015
BESLER Consulting today announced the firm has won a 2015 MarketingProfs Bright Bulb B2B Marketing Award.
The MarketingProfs Bright Bulb B2B Awards recognize brilliance, excellence, and innovation in B2B marketing. BESLER Consulting's campaign for the launch of their Readmissions Analytics product was selected as the winner of the Best Small Team In-House Campaign.
"We are honored to have won a Bright Bulb B2B Award," said Michael Passanante, Director of Marketing at BESLER. "Our Readmissions Analytics campaign is an excellent example of how firm-wide collaboration, creativity, and persistence can deliver remarkable business results."
A special edition of the Marketing Smarts podcast features interviews with several of this year's winners, including Michael Passanante of BESLER Consulting. Visit the MarketingProfs website to hear more about the campaign.
http://www.marketingprofs.com/podcasts/2015/28724/marketing-lessons-2015-bright-bulb-award-winners
About BESLER Consulting
For over 25 years, BESLER has helped hospitals enhance and protect their Medicare revenue. BESLER's deep domain experience in revenue cycle, reimbursement, compliance and software development has resulted in more than $2 billion of additional revenue for our clients. For more information, visit http://www.besler.com.