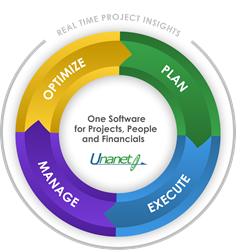 Since general availability...[of Unanet Financials]...our growth and pipeline is the biggest it has ever been.
Dulles, VA (PRWEB) October 30, 2015
Unanet, a developer of software that helps project-driven organizations manage projects, people and financials in one integrated system, announces the adoption of Unanet Financials by over 60 companies.
Unanet Financials, released for general availability in July of 2015 has been chosen by professional services firms of all sizes switching from various systems. These 60 plus companies switched over to Unanet Financials for the desire for one integrated system, in addition to many other reasons.
These reasons included the need for real-time reporting and analytics so their project managers can receive the information they need, when they need it. Customers articulated a need for a system to provide traceability and lower the cost of compliance. Administration and maintenance costs are lower now that they have moved to Unanet as alternatives are complex, more costly, and rely on multiple disparate databases.
In addition, customers adopting Unanet Financials value the commitment to ongoing investment and innovation, while legacy alternatives are being sunset or phased out. A final reason these companies have selected Unanet Financials is for the ability for their financial teams and managers to shift focus away from managing transactions and spreadsheets, so they can now concentrate on transformation and growing their business.
Unanet President & COO, Chris Craig commented. "Our customers and partners strongly supported our strategy to deliver one software for projects, people and financials, and since general availability in July, our growth and pipeline is the biggest it has ever been. Unanet 's customers report faster invoicing, reduction of spreadsheets, shorter time to close the books, improved traceability and compliance, and the transformative effect of allowing managers and staff to move beyond managing transactions; freeing them to focus on driving the business forward."
To help accelerate adoption, Unanet has developed flexible and automated conversion tools to reduce migration time, risk and cost, and standards-based professional services programs to implement best practices.
About Unanet: Unanet is a leading provider of Cloud and On-Premise software for project-based organizations. Unanet delivers skills management, resource planning, budgeting & forecasting, time & expense reporting, billing & revenue recognition, project management analytics and dashboards, and integrated financials with AR, AP, GL and cost pool calculations. Over 1,000 organizations rely on Unanet to maximize staff utilization, reduce administrative costs by 90%, improve invoicing by 10X, and support forward decision-making for improved operations.