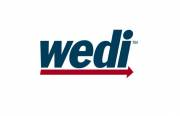 Shana truly represents the best of public/private collaboration and has brought an incredible amount of vision and passion to her as the head of the National Standards Group
RESTON, Va. (PRWEB) October 30, 2015
WEDI, the nation's leading authority on the use of health IT to create efficiencies in healthcare information exchange, announces the 2015 recipient of its annual HIT Government Champion Award. Shana Olshan, Director of the National Standards Group (NSG) at the Office of Enterprise Information at the Centers for Medicare and Medicaid Services (CMS) was presented the award during WEDI-Con 2015 in Reston, Va. on Wednesday, October 28.
The HIT Government Champion Award recognizes exceptional government personnel who have supported policies that advance the health IT industry. Voted on by the WEDI Board of Directors, this award provides recognition of the tireless efforts and accomplishments of key public health IT leaders.
"Shana truly represents the best of public/private collaboration and has brought an incredible amount of vision and passion to her as the head of the National Standards Group," said Devin Jopp, Ed.D, president and CEO of WEDI. "We look forward to the continued partnership as we work to further the quality and efficiency our nation's healthcare system."
During Ms. Olshan's more than 20-year tenure at CMS, she has worked in a variety of policy, quality, operations and communications areas. For the last 12 years she worked in the CMS Provider Communications Group focused on outreach and education to the Medicare Fee-for-Service providers. This work included ICD-10 outreach, as well as overseeing the CMS HIPAA Eligibility Transaction System. Olshan has a Master's Degree in Public Health, Health Policy and Administration from the University of California at Berkeley and a Bachelor of Arts Degree in Biology from Rice University.
For more information on the 2015 awardees or on the WEDI-Con conference, please visit http://www.wedi.org.
About WEDI
The Workgroup for Electronic Data Interchange (WEDI) is the leading authority on the use of health IT to improve healthcare information exchange in order to enhance the quality of care, improve efficiency, and reduce costs of our nation's healthcare system. WEDI was formed in 1991 by the Secretary of Health and Human Services (HHS) and was designated in the 1996 HIPAA legislation as an advisor to HHS. WEDI's membership includes a broad coalition of organizations, including: hospitals, providers, health plans, vendors, government agencies, consumers, not-for-profit organizations, and standards development organizations. To learn more, visit http://www.wedi.org and connect with us on Twitter, Facebook and LinkedIn.
-###-
Press contact information:
Dave Anderson
678-401-2991
dave(at)andersoni(dot)com