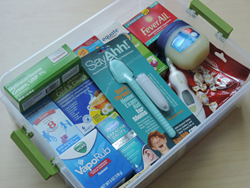 Washington, New Hampshire (PRWEB) November 02, 2015
Cold/flu season is here, and Q-In Medical Technologies, LLC., the maker of the new SayAhh! Sore Throat Home Exam Aid (available at http://www.SayAhh.com), wants parents and caregivers to be prepared with a minimum of illness and disruption to their life. When it comes to the family's health, a little preparedness goes a long way:
Take Inventory: Check your medicine cabinet and make sure products are not expired. See what you're missing or running low on and make a shopping list. You might even consider moving medicines to a closet or cabinet that isn't in the bathroom, as some products can be affected by the humidity and heat in a typical bathroom. Just make sure they are not within reach of little hands!
Stock Up: It pays to be ready with over-the-counter medicines, such as cough suppressants/expectorants, fever reducers and allergy treatments, making sure to carefully read the dosing and age restrictions. This way you're never left having to make a midnight run to the drug store – or find one that's open just when you need it!
Arm Yourself: If your family frequently suffers from sore throats and you're never sure if it is serious enough to warrant a visit to the doctor's office – that's filled with other sick, germy patients, you'll definitely want the new SayAhh! Sore Throat Home Exam Aid. This new health tool will allow you to get a closer, more accurate look at the entire mouth and throat, then compare to the medical grade pictures/illustrations and descriptions of serious throat infections provided in the SayAhh! health management system on http://www.sayahh.com or the SayAhh! Exam Guide smart phone app (available in the Apple App Store and Google Play) and report what you see to your healthcare provider who will determine next steps.
Go Healthy: Certain foods, such as bananas, lemons, carrots and honey can help keep your immune system running strong. Plus, keep comfort-food recipes close by, because nothing beats a homemade chicken noodle soup when your brood isn't feeling well!
Keep it Clean: Did you know that a typical sneeze can travel 100 M.P.H. and spew countless germs into the air? And, that viruses can survive on certain everyday objects – like money – for quite a while? You might not believe it, but it is possible to keep the germs contained and help stop them from spreading. Keep hand sanitizers and disinfectant sprays and wipes close by and keep them in easily reached places in danger zones, such as bathrooms, TV remotes and gaming controls -- just a few examples of a happy home to germs. Teach or remind all family members to sneeze into the crook of their elbow – not their hands! And don't forget hand washing – 20 seconds or more of vigorous washing with soap and water—frequently during cold/flu season. Most important, parents should set good examples for their children by practicing healthy habits themselves.
SayAhh! Sore Throat Home Exam Aid is available online at http://www.SayAhh.com. Order today using promo code SayAhhPR and receive $1.00 off at checkout along with FREE SHIPPING for a limited time. Join the SayAhh! Facebook community for health and lifestyle tips and great giveaway offers!
Learn more about SayAhh! at http://www.SayAhh.com.