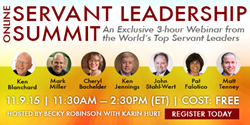 Register now for this exclusive, online event!
Lambertville, Michigan (PRWEB) November 02, 2015
Weaving Influence will host an Online Servant Leadership Summit on Monday, November 9, 2015 at 11:30 a.m. EST. This exclusive, 3-hour webinar will feature discussions by successful business leaders Ken Blanchard, Mark Miller, Cheryl Bachelder, Ken Jennings, John Stahl-Wert, Matt Tenney, and the CEO of the Robert K. Greenleaf Center for Servant Leadership, Pat Falotico. Becky Robinson and Karin Hurt will host and introduce each speaker throughout the webinar. To register for this innovative presentation, visit our website here.
The Online Servant Leadership Summit will include:

Defining servant leadership
Introducing the SERVE Model
Using servant leadership in business roles
Sharing questions and answering them live throughout the webinar
Becky Robinson, the CEO and founder of Weaving Influence, said the following: "We are really excited to host these experts and learning from their experiences in the power of servant leadership for organizations."
About the Presenters
Ken Blanchard, author of "The New One Minute Manager", is one of the most successful business authors to date. In the past three decades he has authored or co-authored 60 books whose combined sales total more than 21 million copies. In 2005 Ken was inducted into Amazon's Hall of Fame as one of the top 25 best-selling authors of all time.
Cheryl Bachelder, who authored "Dare to Serve", is the CEO of Popeyes® Louisiana Kitchen Inc., a multibillion-dollar chain of more than 2,200 restaurants. She has more than 35 years of experience in leadership at companies like Yum Brands, Domino's Pizza, RJR Nabisco, The Gillette Company and The Procter & Gamble Company.
Ken Jennings is the bestselling co-author of "The Serving Leader: Five Powerful Actions that Will Transform Your Team, Your Business, and Your Community." He is a speaker and active consultant in organizational leadership. With practical and proven approaches, Ken counsels senior leadership teams at many healthcare, technology, pharmaceutical and biotechnology organizations.
Mark Miller has steadily increased his value at Chick-fil-A and has provided leadership for Corporate Communications, Field Operations, and Quality and Customer Satisfaction. Today he serves as the Vice President of Training and Development. During his time with Chick-fil-A, annual sales have grown to almost $4 billion.
Dr. John Stahl-Wert works with organizations that want to build great leaders, who achieve great results by bringing out the very best in their people. He is a best-selling author, a highly sought-after keynote speaker, and an expert in growing great leaders. John also serves as President of Newton Institute, the parent company of the Center for Serving Leadership.
Matt Tenney is a social entrepreneur and the author of "Serve to Be Great: Leadership Lessons from a Prison, a Monastery, and a Boardroom". He is also an international keynote speaker, a trainer, and a consultant with the prestigious Perth Leadership Institute, whose clients include numerous Fortune 500 companies.
Pat Falotico is the CEO of the Robert K. Greenleaf Center for Servant Leadership. Founded in 1964 by Robert Greenleaf, the Center advances the philosophy and practice of Servant Leadership, which enriches individuals, builds better organizations, and ultimately creates a better, caring society.
About the Hosts
Becky Robinson is the CEO and founder of Weaving Influence, Inc., a social media consulting and implementation company specializing in helping authors and thought leaders grow their online influence and market their books. Robinson equips and trains a growing team to partner with and serve top-level clients. She also formed Team Buzz Builder, a supportive community of bloggers that she mobilizes on behalf of authors.
Karin Hurt, CEO of Let's Grow Leaders, is a keynote speaker, leadership consultant, and MBA professor. A former Verizon Wireless executive, she has over two decades of experience in sales, customer service, and HR. She was recently named on Inc's list of 100 Great Leadership Speakers, AMA's 50 Leaders to Watch in 2015, & Top Thought Leader in Trust by Trust Across America.