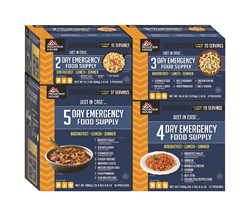 Mountain House is widely considered to be the best freeze dried food money can buy
Albany, Oregon (PRWEB) November 02, 2015
Mountain House launched four new multi-day emergency food supply kits with enough food to help feed one person from two to five days. These kits include Mountain House's most popular breakfast and lunch recipes. Easy to stack and store, combining one of each of the kits as a simple way to store two weeks' worth of food. They are compact enough to fit in any closest, pantry, or even under a bed and are a great foundation for a comprehensive emergency food plan.
Each emergency food supply kit contains a unique assortment of 18 of Mountain House's popular just-add-water meals. With recipes ranging from Biscuits and Gravy to Italian-Style Pepper Steak with Rice & Tomatoes, and kits ranging from two to five days, their goal is to enable easily customizable food storage to meet families' taste and timeframe requirements. Simple to prepare, just pour hot water into any of the pouches and in eight to ten minutes the hearty meal is ready to eat.
"Emergency preparedness can be daunting. Especially as you're first starting out," says Reiner Bohlen, Marketing Manager at Mountain House. "We created these kits to simplify family preparedness for those just getting started, as well as for those with a well-established supply. With nearly 50 years of experience and our industry-exclusive 12+ year Taste Guarantee, Mountain House is widely considered to be the best freeze dried food money can buy."
Introductory pricing ranges from $39.99 for the Two Day kit to $99.99 for the Five Day Kit. For a limited time, when consumers buy any combination of kits totaling 5 days they can receive a $20 rebate. For more details about the rebate and the kits visit http://www.mountainhouse.com/M/Multi-Day-Kits.html.
About Mountain House
Based in Albany, Ore., Mountain House has been the first choice of backpackers, hikers, campers and emergency preparation experts for nearly 50 years. Why? Mountain House makes the best tasting, easiest to use, most reliable meals, no matter how extreme the environment. As a result, Mountain House is the top brand of freeze dried meals and sells more than 70% of freeze dried meals in North America according to the Outdoor Industry of America. Their line of meals in pouches have a Taste Guarantee of 12+ years. Foods in their #10 cans have a Taste Guarantee of 25+ years. For more information and a complete list of products, visit http://www.mountainhouse.com.