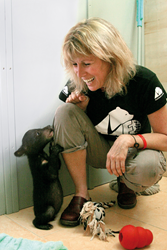 "Jill Robinson is an international hero for Moon Bears and an example of one person changing the world. Her leadership in ending bear bile farming is legendary," said Amy Gotliffe, Conservation Director at Oakland Zoo
Oakland, CA (PRWEB) October 30, 2015
On Tuesday, November 10, 2015, from 6:30pm – 9:30pm, Oakland Zoo welcomes the public to attend a Conservation Speaker Series featuring Jill Robinson, founder and CEO of Animals Asia. Robinson is widely recognized as the world's leading expert on the cruel bear bile industry, and her organization is devoted to saving bears and improving the welfare of animals in China and Vietnam. "Animals Asia's work to end bear bile farming depends on you, our incredible supporters and friends from around the world," said Jill Robinson of Animals Asia. "I can't wait to meet you face to face - and talk about the work that moves mountains for animals - at the upcoming speaker series at the Oakland Zoo." The evening's lecture will focus on first-hand accounts of bear rescues and uplifting stories of bears surviving and thriving. Many in the animal conservation community consider Ms. Robinson a champion for animals, especially the moon bear.
Oakland Zoo is thrilled to host Jill Robinson of Animals Asia and showcase how one of its conservation partners is taking action for animals and making incredible progress in the field to save these beautiful bears. "What an honor," exclaimed Amy Gotliffe, Conservation Director at Oakland Zoo. "Jill Robinson is an international hero for Moon Bears and an example of one person changing the world. Her leadership in ending bear bile farming is legendary, and hearing her speak gives me enough hope to last a year. I can't wait to infuse our audience with some of her incredible empathy, energy and inspiration." Born and raised in England, Robinson was always interested in the welfare of animals. In 1993, Robinson visited a bear bile farm in China and from that experience she was compelled to do something and committed herself to taking action, to stop this practice and save the bears.
The evening engagement will also include a check presentation to Animals Asia of $10,000 from Oakland Zoo and Taiwan Tourism Bureau, who is the sponsor of the evening's festivities and Conservation Speaker Series lecture. "We are very happy to extend our efforts in the U.S. through the collaboration with Oakland Zoo," said Sylvia Yu, Director of Taiwan Tourism Bureau, San Francisco. "Taiwan has been devoting tremendous efforts and resources into the development of Green Tourism. Nature and wildlife conservation is the driving force behind Taiwan's infrastructural development that links tourists to Taiwan's wilderness - the home to the world's highest concentration of butterfly and bird species as well as a protected habitat for the critically endangered Taiwan Formosan Black Bear and white dolphins."
The event is open to the public and will take place at Oakland Zoo's Zimmer Auditorium, located at the Lower Entrance of the Zoo. Parking is free and admission for the presentations is $12.00 - $20.00 per person (sliding scale). All proceeds from this event will be donated to Animals Asia.
ABOUT THE BEAR BILE INDUSTRY ISSUE: More than 10,000 bears are kept on bile farms in China, and official figures put the number suffering the same fate in Vietnam at 1,245. The bears are milked regularly for their bile, which is used in traditional medicine. Bile is extracted using various painful, invasive techniques, all of which cause massive infection in the bears. This cruel practice continues despite the availability of a large number of effective and affordable herbal and synthetic alternatives. Most farmed bears are kept in tiny cages. In China, the cages are sometimes so small that the bears are unable to turn around or stand on all fours. Some bears are put into cages as cubs and never released. Bears may be kept caged like this for up to thirty years. Most farmed bears are starved, dehydrated, and suffer from multiple diseases and malignant tumors that ultimately kill them.
ABOUT ANIMALS ASIA: Animals Asia was founded in 1998 by Jill Robinson, with an aim to put an end to the horrific bear bile industry plaguing moon bears (Asiatic black bears). Jill Robinson is credited with "single-handedly alerting the world" to the barbaric and cruel practice of bear farming. Animals Asia has since rescued over five hundred bears that once lived their lives in crush cages, barely able to move with tubes inserted into their bodies. Animals Asia rescues the bears and rehabilitates them from injuries and emotional damage they were forced to endure. The bears are then released into one of two award winning sanctuaries in China and Vietnam. Animals Asia employs a unique approach with bear bile farmers of investigation, respect, and negotiation - to end bear bile farms one at a time. The foundation engages with people accustomed to the traditional medicine community to promote herbal and synthetic alternatives, then leads to lower demand for bear bile. Animals Asia's use of empathy and education has brought about drastic change, promoting compassion and respect for moon bears and all animals in China and Vietnam. While the foundation's primarily goal is to close all bear bile farms, they also fight abusive practices of zoos and safari parks in Asia, advocate for policy changes regarding animal welfare, and lobby for humane treatment of dogs and cats.
ABOUT TAIWAN TOURISM BUREAU: A geological marvel, our island, set at ocean's edge, boasts an ancient culture, where the best of human endeavor has been stored up and lives on today. For visitors, this means an amazing concentration of old and new to be experienced through activities that cover every taste and temperament. From Buddhist rituals to high-tech wonders, and lakeside retreats to thrilling mountaineering, Taiwan will stretch the most demanding imagination. Our culture of welcome may come down through 5,000 years of tradition, but you will find that it still comes from the heart. For more information please visit our website at go2taiwan.net.
ABOUT OAKLAND ZOO: The Bay Area's award-winning Oakland Zoo is home to more than 660 native and exotic animals. The Zoo offers many educational programs and kid's activities perfect for science field trips, family day trips and exciting birthday parties. Oakland Zoo is dedicated to wildlife conservation onsite and worldwide. Nestled in the Oakland Hills, in 500-acre Knowland Park, the Zoo is located at 9777 Golf Links Road, off Highway 580. The East Bay Zoological Society (Oakland Zoo) is a nonprofit 501(c)3 organization supported in part by members, contributions, the City of Oakland and the East Bay Regional Parks. For more information please visit our website at http://www.oaklandzoo.org.
##
Contact: Nicky Mora, Senior Manager, Marketing/PR
(510) 632-9525 ext. 130
nmora(at)oaklandzoo.org
Contact: Amy Gotliffe, Director, Conservation
(510) 632-9525 ext. 122
amy(at)oaklandzoo.org