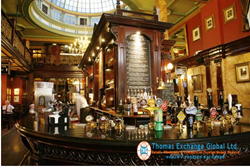 Two of the cocktail bars recognized on the newly released top 50 list—The American Bar and Beaufort Bar—are right across the street from our Strand branch
London, UK (PRWEB UK) 5 November 2015
London was recently recognized for being the cocktail capital of the world for the 4th year in a row by the World's 50 Best Bar Awards, as reported by Evening Standard. London was once again selected as the cocktail capital of the world with 9 cocktail bars recognized on the top 50 list.London-based currency specialist Thomas Exchange Global offers the best rates for exchanging foreign travel money to visitors travelling to the city to sample its renowned cocktails in light of the news.
According to the World's 50 Best Bar Awards, as reported by UK-based news source Evening Standard in an article published on October 9th, London cocktail bars are among the world's best—thus making London the cocktail capitol of the world. The report states that 5 of the top 10 spots are occupied by London-based bars.
"We are proud of the superior performance of London's cocktail bars. Diversity and world-class hospitality keep London as the most visited city on the planet, and in so, we're happy to facilitate a quick and easy exchange of currency to visitors in need of travel money upon arrival," commented Trevor Samuel, Senior Manager at Thomas Exchange Global. "We aim to make our services as convenient and accessible as possible, with 11 branches located in hotspots throughout the city. In fact, two of the cocktail bars recognized on the newly released top 50 list—The American Bar and Beaufort Bar—are right across the street from our Strand branch."
Thomas Exchange Global offers the most competitive exchange rates for purchasing the Pound Sterling in London. Furthermore, all of the transactions at Thomas Exchange Global are commission-free with exchange rates displayed in plain sight on the windows at each branch to maintain a high level of transparency on its pricing.
"We do not believe in so-called 'tourist rates,'" exclaimed Trevor. "We offer the best deal in London by far."
Additionally, Thomas Exchange Global accepts foreign credit cards for cash advances and executes international bank transfers at highly competitive rates.
For further details about Thomas Exchange Global or its currency exchange services, please visit http://www.thomasexchangeglobal.co.uk, or call 020 7240 1214.
About Thomas Exchange Global:
As dedicated foreign exchange specialists, Thomas Exchange Global has the professional expertise, in depth market knowledge, technological infrastructure and commitment to provide an unprecedented level of service that sets the standard in the foreign exchange industry. They are specialists in all areas of foreign exchange. They provide commission free currency as well as travellers cheques.
Thomas Exchange Global also offers International Money Transfer Service where funds can be remitted to overseas bank accounts within one to two days. With commission free service for transfers over £10,000 backed by competitive exchange rates, customers are assured of a better deal and a substantial saving compared to banks and money brokers. Thomas Exchange Global branches are located at Strand, Embankment, Victoria Place (Victoria Rail Station) Victoria Street, Liverpool Street, High Street Kensington, Hammersmith, Canary Wharf, Cannon Street, Wormwood Street and Richmond.