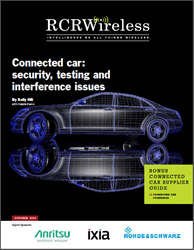 'Bringing more connectivity to the car poses a number of risks and technical challenges along with the potential for new services and revenue.' - Kelly Hill, report author
Austin, Texas (PRWEB) November 02, 2015
Automobiles and mobile phones have a long shared history. RCR garnered insight from experts across the telecom industry on the state of the connected car ecosystem, from experts on network security and embedded vehicle testing to after-market dongles and what consumers are seeking in vehicle features.
Connected cars are already driving the machine-to-machine space, research firm Infonetics has concluded. Gartner predicts there will be a quarter-billion connected vehicles on the road by 2020, with new vehicles dramatically increasing the proportions of connected cars. In particular, regulations requiring emergency connectivity, or eCall, for new vehicles in Europe, are helping to drive the ecosystem.
"The connected car is an area that holds great interest for both automotive manufacturers and mobile operators. We're already seeing carriers such as AT&T add millions of connected cars to its network," said RCR Wireless News Technology Reporter Kelly Hill. "But bringing more connectivity to the car poses a number of risks and technical challenges along with the potential for new services and revenue."
But the connected car is not merely a bigger smartphone, nor is it simply a sum of integrated parts plus IP connectivity. There are fundamental technical, business and security issues that must be addressed, and some of those problems are not insignificant. This report explores some of the primary testing and technology challenges facing the connected car, consumer and market trends that are driving the ecosystem, and takes stock of industry efforts to address them.
Richard Jacklin, business development director at Anite, said that car manufacturers typically integrate pre-approved cellular modems from their suppliers. Those may consist of a single box with multiple wireless technologies inside, or multiple units to integrate.
"You'd think, on the face of it, that taking a pre-approved component and putting it into a vehicle, that they're be home and dry, and it all would be working," Jacklin said. "But they still face quite a number of key challenges."
Download this report to learn:

What wireless technologies are being implemented in the connected car, from the emerging Dedicated Short Range Communications standard to cellular and Bluetooth
Key technical and market challenges for the connected car market
Consumer insights on features being used currently, as well as those desired in future vehicle purchases
An in-depth examination of crucial security issues and points of vulnerability
Recent news and developments in the connected car space
Bonus: Supplier guide including more than 80 connected car companies
Watch the complimentary editorial webinar featuring:

Kelly Hill, Technology Reporter, RCR Wireless News
Jennifer Parks, Director of Research, Parks Associates
Brian Greaves, Director of Product Development, IoT Solutions, AT&T
Craig Hendricks, Senior Wireless Business Development Manager, Anritsu
Michael Githens, Senior Solutions Marketing Manager, Ixia
Click here to download this special report.
About RCR Wireless News
Since 1982, RCR Wireless News has been providing wireless and mobile industry news, insights, and analysis to industry and enterprise professionals, decision makers, policy makers, analysts and investors. Our mission is to connect, globally and locally, mobile technology professionals and companies online, in person, and now on video. Our dedication to editorial excellence coupled with one of the industry's most comprehensive industry databases and digital networks leads readers and advertisers to consistently choose RCR Wireless News over other industry publications. http://www.rcrwireless.com