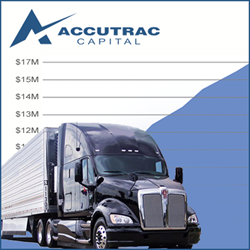 Accutrac Capital, an invoice factoring company with transportation industry experience, provides the lowest cost invoice factoring products for trucking companies.
Fresno, CA (PRWEB) November 04, 2015
Accutrac Capital, an invoice factoring company, has signed over $17 M in new business since January of 2015. This large addition to an already significant portfolio is a testament to the quality and value of service this innovative factoring company delivers to their trucking customers.
Trucking is a capital intensive industry, requiring reliable access to significant positive cash flow to meet daily operating expenses. With slim margins, high fuel costs and intense competition, it is no wonder that many trucking companies are facing financial challenges. Hard working business owners struggle to find viable ways of obtaining the necessary cash to run their operations. However, when trucking companies are armed with good business sense and a viable financial strategy, the future is full of potential. Accutrac Capital is positioned to deliver the industry's lowest cost in invoice factoring products to transportation businesses that are undercapitalized.
"We provide real value to our clients." explains Mr. Charles Sheppard, President of Accutrac Capital. "Our invoice factoring products allow trucking companies to access greater amounts of funding as their businesses grows without diluting equity. The benefits of our innovative factoring products are further augmented with fuel discounts to maximize client profitability".
Accutrac Capital is a trusted invoice factoring company providing industry experience and cost effective service with integrity. This knowledgeable team has decades of experience in business finance and transportation management. The team's industry specialists have over 40 years combined experience in transportation, including hands-on experience owning and operating a successful trucking company. "You won't have to explain how your trucking business works," continues Mr. Sheppard, "we know the challenges you face and the importance of having available cash to keep your trucks on the road." With industry leading services such as Cash Advance B4 Delivery, Invoice Factoring and Fuel Discount Cards, Accutrac Capital will ensure you have the available funds to keep your fleet rolling and pulling freight.
To ensure your satisfaction, Accutrac provides total transparency with regular reporting and customer access to current accounts. View real-time account activity with 24/7 access to a user friendly online account management system. Track the process from invoice to final remittance and balance paid. Funding is easy and expedient with no delays during the process.
Accutrac Capital takes a personal approach to addressing customer's financial objectives by providing a dedicated Accounts Manager to work with them on a daily basis. Each Manager's duty is to facilitate the working process and ensure client companies receive funds on time as required. The team works relentlessly to assist customers reduce credit risk and improve their accounts receivable management to maximize the client company's bottom line.
Accutrac's rapidly growing brand recognition is largely due to quality of service, superior customer support and unequivocal honesty and transparency. With an industry high customer satisfaction rating, Accutrac Capital is regarded as a valuable asset and an essential financial service to its trucking customers.
For more information about the benefits of Invoice Factoring and Fuel Discount Cards, contact Accutrac Capital online or call: (855) 732-1165.