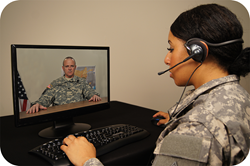 We're pleased that the research promises results for SIMmersion's clients
Columbia, Maryland (PRWEB) October 31, 2015
In capability briefings at Fort Benning, Georgia, SIMmersion provided live demonstrations of its PeopleSim® training technology. Attendees confirmed that the Army could have many uses for this technology. At the invitation of Army personnel, SIMmersion committed to attend Fort Benning's 2015 Maneuver Conference. In preparation for the Conference, SIMmersion developed and documented concepts in a white paper that would be particularly relevant for Fort Benning's training requirements.
The paper drew on the experience of Tom Beato, Senior Vice President of Business Development at SIMmersion and a retired Army Major whose final assignment was Deputy Director of III Corps & Fort Hood Battle Simulation Center training Soldiers with live, virtual, and constructive training simulations. Beato was involved in training Soldiers from platoon to Corps level during his 20-year Army tenure. He and his business development team prepared an unsolicited white paper, titled "Advanced Situational Awareness" to take with them to Fort Benning. The paper describes multiple uses for PeopleSim® technology. There are numerous existing examples of using the technology to train a single skill such as reading certain behavioral clues in the context of a conversation or to assess soft skills. However, the technology could also simulate battle situations where unpredictable events and previous actions can affect how the simulation unfolds.
Beato travelled to the Maneuver Conference together with Dr. Dale Olsen, PhD., CEO of SIMmersion and Chip Trimmier, PMP, SIMmersion's Capture Manager. Military personnel from the US and around the world filled the halls of the Maneuver Center of Excellence during the event. SIMmersion presented their white paper to select Army personnel during the Conference to show how Soldiers can acquire skills faster, retain them better and refresh them anytime, anywhere by using SIMmersion's research-proven technology. As one of only a few training companies attending the Maneuver Conference, SIMmersion demonstrated some of their capabilities by running a series of simulations at their booth.
Using several existing systems, SIMmersion showed some of the things it has already accomplished for the Army. An Afghan local seeks a job at a forward operating base in "Locally Employed Personnel Screening." A Soldier briefs a superior officer in "Operational Planning Update: Afghanistan." An officer assesses a local doctor providing information about militants in "Walk-In Interview." A peer talks to a fellow Soldier about post-traumatic stress in "Psychological Health." A virtual Soldier confronts his problems in the "Applied Suicide Intervention Skills Training Reinforcer."
All of these simulations have a few things in common. Using SIMmersion's PeopleSim® technology, Soldiers can talk with virtual characters who have memory and dynamic emotions so that they respond as real people would. The simulation responds to the Soldier by considering the character's evolving relationship with the Soldier, the history of the conversation, and elements of the character's situation or personality (which will vary between uses) to compute probabilities for each of a variety of possible responses. These probabilities factor into the selection of the character's response. The nearly free-form conversations can be as extensive as necessary and are different every time the simulation is used. Soldiers receive feedback in a variety of ways including help from an on-screen coach and a comprehensive after-action review.
Armed with research showing their technology gets results, SIMmersion is looking forward to doing more to help Soldiers overmatch America's enemies. A series of single-blind scientific studies conducted by Northwestern University Feinberg School of Medicine, University of Wisconsin-Madison School of Medicine and Public Health, as well as research by Winona State University and others found that SIMmersion's training system translates into real world results from people who receive the training. Peer-reviewed articles examining the efficacy of PeopleSim® simulations appear in numerous journals. Dr. Olsen will present a paper demonstrating the effectiveness of PeopleSim® technology at the 2015 Interservice/Industry Training, Simulation and Education Conference (I/ITSEC).
"We're pleased that the research promises results for SIMmersion's clients," says Dr. Olsen. "It's comforting to know that our work is having a real effect."
After the favorable response they received at the 2015 Maneuver Conference, SIMmersion is looking forward to helping the Army meet its present and future training needs.
About SIMmersion
SIMmersion's mission is to train skills faster and more effectively by combining the world's most realistic simulated experiences with highly interactive training content and extensive user feedback. To learn about the research proving the technology enhances real-world results, please visit SIMmersion's website at http://simmersion.com/Publications.aspx#research. For more information, contact SIMmersion online or at 443-283-2555.