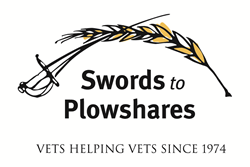 Out of all the treatment options available, the one that seems to work is veterans supporting veterans. That connection is what will keep veterans engaged in theplatform.
(PRWEB) October 30, 2015
Swords to Plowshares, a San Francisco-based veteran service agency, is partnering with PeerWell, a healthcare company that treats chronic diseases via a smartphone app, in order to create online support groups for veterans.
The new app will create digital peer-to-peer groups for veterans, or "vet-to-vet support" in order to connect participants with information on obtaining benefits they have earned through military service. At the same time, the app aims to improve on veteran mental health during one of their most challenging life stages—the transition from military to civilian life—by leading groups through clinically proven exercises that can be used to achieve mental resiliency at home, in school, and on the job.
"It combines the insights and experiences of Iraq and Afghanistan combat veterans, who have gone through this transition, with the knowledge of medical experts who will help develop the mental fortitude that's necessary for veterans to transition smoothly," said Kevin Miller, Strategic Development and Communications Coordinator at Swords to Plowshares as well as a former Marine and combat veteran. "Out of all the treatment options available, the one that seems to work is veterans supporting veterans. That connection is what will keep veterans engaged in the platform."
Currently run as a private beta, and monitored by a team of technologists and medical staff, the app is set for public launch on Veteran's Day, November 11th. Once set up in their virtual peer groups, participating veterans are given weekly plans that include actionable steps to apply for government benefits as well as high-tech tools to manage the stress, anxiety and mood challenges that come with transitioning.
Formerly a brand manager in Procter & Gamble's healthcare business unit, PeerWell Chief Commercial Officer Navin Gupta said that PeerWell's mental health program differs from others by marrying credible science with human connection.
"Isolation is incredibly corrosive to both physical and mental health. Connecting people with shared experiences to each other, and to information they can trust, is a powerful way to improve health outcomes," Gupta said. "This is especially important for veterans, as information on how to access benefits has changed multiple times in just the last few months. With our ability to adapt and update content based on up-to-the-minute research, both from our medical content team and from advisors at Swords to Plowshares, PeerWell ensures that veterans are receiving the most accurate and impactful help available."
About Swords to Plowshares
Founded in 1974, Swords to Plowshares is a community-based not-for-profit organization that provides counseling and case management, employment and training, housing and legal assistance to homeless and low-income veterans in the San Francisco Bay Area. Swords to Plowshares promotes and protects the rights of veterans through advocacy, public education, and partnerships with local, state and national entities. Learn more by visiting http://www.stp-sf.org.
About PeerWell
PeerWell is a healthcare company that is reducing the cost of disease management by combining technology, behavioral health and community. Its platform enables people to work together to follow evidence-based health improvement programs, covering outcomes that span both mental and physical health such as improving stress control, anxiety, mood, sugar control and heart health. For more information visit http://www.peerwell.co.
###