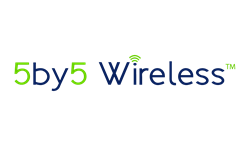 Cable companies that own rural spectrum or spectrum in obscure areas can now monetize spectrum by utilizing a 5by5 solution.
Otttawa, Ontario, Canada (PRWEB) November 02, 2015
Greg Waite, CEO of InventionShareTM, announced today that a new invention called 5by5 WirelessTM allows cable companies worldwide to get into the wireless internet business at a very low cost across large rural areas with low populations or hard to reach island communities.
5by5 Wireless provides approximately five times greater wireless internet coverage for economical internet and wireless connectivity. Developed by a team of experienced technology entrepreneurs with many years' experience in wireless communications, the full duplex wireless communications system is a 100% hardware solution. A single 360-degree antenna affords greater data throughput, providing wireless coverage up to 25 miles (32 km) for a total circular coverage area of 1,250 square miles or 3,200 square km from one low cost base station.
5by5 Wireless uses the UHF 300-1000 MHz frequency spectrum. For example, using 48 MHz of downstream bandwidth will provide data operating speed of 344 Mbps for downloading, and 24 MHz of upstream bandwidth will provide 80 Mbps - providing the opportunity for thousands of internet users. The 5by5 Wireless circuit also can provide full duplex over all spectrum to all wireless communications devices, and is platform agnostic. While the service can deploy across all platforms, it currently uses DOCSIS 3.1, and LTE compliant a standard for the cable industry.
Mr. Waite said, "Cable companies now have the opportunity to piggyback off existing infrastructure, including the end point where fiber meets towers. A company could deploy out from that point - up to 25 miles in either direction or a whopping 50 miles in diameter. This would allow for a simple, inexpensive base station to be deployed, and the model then becomes supplying broadcast and internet to large areas which is impractical with traditional cable due to low customer population density."
A cable company that owns rural spectrum or spectrum in obscure areas could now monetize this spectrum by utilizing a 5by5 solution.
Mr. Waite stated that InventionShare is open for licensing and distribution discussions with regional and national telephone companies, ISPs, cable and tower companies who now can get into the wireless business with a very low cost, elegant wireless internet solution.
About InventionShare™
InventionShare provides inventors with funding, talent, expert processes to accelerate innovation, patent creation and monetization. Respecting that each of our inventors is the architect and the mastermind behind the invention, we work with our inventors in a professional manner as partners helping them take their inventions to market.
About 5by5 Wireless™
5by5 Wireless is a patent pending family of inventions that provides a unique solution in delivering internet services to the entire world. Technically it provides full duplex over wireless and high signal strength with very low noise. It is a low cost hardware solution that delivers on the promise of extended range wireless on UHF and on all spectrums and it delivers full duplex to rural, remote, metro, office, smart city, industrial and home applications.
For more information, contact Kensel Tracy:
Ktracy(at)inventionshare(dot)com 613-225-7236 ext. 116