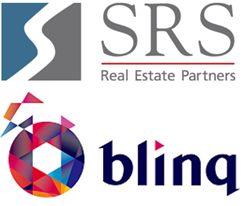 With this mix of new services, shops and amenities Blinq and SRS will offer at BART stations, people will be able to take back five minutes of their day.
DALLAS (PRWEB) November 03, 2015
SRS Real Estate Partners (SRS) and Blinq are pleased to announce their joint effort to establish convenient services, shopping and amenities for people traveling throughout Bay Area Rapid Transit's (BART) 44-station network. Blinq has an exclusive agreement with BART to operate shops, vending, and concierge services that will serve the approximately 500,000 daily riders in the San Francisco Bay Area. SRS has an exclusive brokerage agreement with Blinq to identify and recruit best-in-class national, regional and local tenants who offer specialty and convenience services tailored to the communities for each station.
Blinq combines a mobile app with modular pods located at the concourse level of BART stations to provide enriching and convenient services and experiences for commuters that allow them to get back five minutes of their day, every day. People will be able to use Blinq to take care of errands, access exclusive deals and giveaways, and discover great brands and local community events.
The Blinq pods will offer a rotating selection of products and services. For launch, Blinq has partnered with several outstanding local businesses: Grubmarket, a purveyor organic farm-to-table foods; EO, a Marin County-based manufacturer of natural personal care essentials; Sol Republic, maker of stylish urban headphones and speakers; and Greener Cleaners, an eco-friendly dry cleaning service. These partnerships, which kick off at Embarcadero and Montgomery stations, are just the start of a larger movement to elevate the commuter experience.
There are also a number of permanent, long-term retail spaces on BART concourses, which start at 100 square feet and vary in size according to each station's footprint. To attract the optimal retail mix for each station, SRS is both leveraging its extensive nationwide retailer network and reaching out to local businesses that may want to expand or relocate. The locations within BART stations provide a unique opportunity for specialty and convenience retailers thanks to BART's critical role in delivering daily riders to prime destinations for work, school, and recreation throughout the Bay Area. Delivery dates for the retail spaces at each station begin early 2016, with anticipated opening dates beginning mid-2016. SRS brokers Ranfie Ancelovici and John Polyzoides are leading the leasing efforts for these permanent retail spaces.
"With this mix of new services, shops and amenities Blinq and SRS will offer at BART stations, people will be able to take back five minutes of their day," said Blinq CEO Alexis Wong. "Our interconnected network is accessible to millions of people, who will be able take care of everyday needs, experience products and services, or discover local happenings. We think this combination of experiences, shopping, and community is the future of the metro hub."
About Blinq
Blinq is an online to offline retail ecosystem providing commuters with unique brand experiences and concierge services across the BART network. The Blinq mobile app and the Blinq pods--located at the concourse level of the BART stations--will host a rotating selection of pop up shops, local events and exclusive happenings that help people take care of errands, discover new products and unearth cultural finds. All during the course of their daily commute. For more information, please visit us at http://www.getblinq.com.
About SRS Real Estate Partners
SRS Real Estate Partners is the largest real estate company in North America exclusively dedicated to retail services. Headquartered in Dallas with more than 20 offices worldwide, SRS' strong reach and international presence provide the company with unparalleled knowledge both globally and domestically. As a result, clients of SRS have a competitive edge through a full range of offerings including brokerage services, corporate services, development services, investment services and management services. Since its inception in 1986, SRS has built a strong foundation in the retail real estate world and grown into one of the industry's most influential and respected leaders. Our success is measured in the achievement of our clients' objectives, satisfaction and trust. For more information, please visit http://www.srsre.com