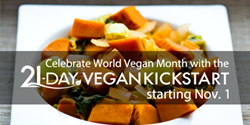 Getting healthy has never been easier. There is no need to count calories on a low-fat, plant-based diet. This is a great program for anyone who wants to lose weight and maximize health.
(PRWEB) October 30, 2015
More than 10,000 participants have already signed up to celebrate World Vegan Month with the free, online 21-Day Vegan Kickstart starting on Nov 1. Doctors and dietitians with the Physicians Committee—a nonprofit of 12,000 doctors—are teaming up with celebrities—including actress Alicia Silverstone, NBA champ John Salley, and exercise physiologist Marco Borges—to show participants how to get healthy with a plant-based diet.
With many celebrities like Beyoncé, Stevie Wonder, and Liam Hemsworth sharing their success stories, public interest in a plant-based diet is on the rise. The online program—going live the first day of every month at http://www.21DayKickstart.org— provides all the support participants need to test-drive a healthful plant-based diet. There is no cost to join the program, which launched Jan. 1, 2010, and has guided more than 450,000 Kickstarters.
"Getting healthy has never been easier," says Physicians Committee dietitian Susan Levin, M.S., R.D., C.S.S.D. "There is no need to count calories on a low-fat, plant-based diet. Participants can lose about a pound a week, and many experience significant health benefits, including lower cholesterol and increased energy. This is a great program for anyone who wants to lose weight and maximize health."
Participants receive daily e-mails with recipes and cooking tips, a 21-day meal plan, an interactive vegan restaurant guide, and a free iPhone app. A special Thanksgiving recipe booklet will be sent to participants who sign up. They'll also gain access to online videos featuring Neal Barnard, M.D., and a discussion board monitored by registered dietitians.
Nutrition counselors, including endurance athletes Scott Jurek and Brendan Brazier, cancer survivor Kris Carr, and wellness coach Kathy Freston, will offer advice on food choices and grocery shopping. They will also share personal stories about the challenges and benefits of new eating habits.
In 2013, Kaiser Permanente sent a nutritional update to physicians, encouraging health care providers to recommend a whole-food, plant-based diet to patients as a cost-effective way to prevent and manage chronic disease.
This week, the World Health Organization issued a report that found red and processed meat products are linked to cancer. Researchers observed the association between red and processed meat products and their increased risk for colon, stomach, pancreatic, and prostate cancers.
For more information about the Physicians Committee's 21-Day Vegan Kickstart program or an interview with an expert, please contact Sierra Coppage at 202-527-7319 or SCoppage(at)PCRM(dot)org.
###
About the Physicians Committee: Founded in 1985, the Physicians Committee for Responsible Medicine is a nonprofit health organization, with more than 12,000 doctor members, that promotes preventive medicine, conducts clinical research, and encourages higher standards for ethics and effectiveness in research.