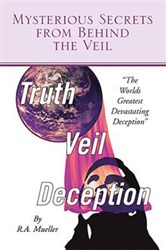 This war will be God's way of reclaiming us from Charlemagne's pagan messages.
VANCOUVER (PRWEB) October 30, 2015
Charlemagne was the main creator behind modern Christianity, but when one takes a closer look at the Old Testament a devious backstory comes to light.
"After not finding the answers I sought from my church, I began locking myself indoors every Sabbath and dedicating my time solely to studying the Bible," R.A. Mueller said.
Mueller's new book, "Mysterious Secrets from Behind the Veil," is the compilation of his knowledge from many years of this type of study. He focuses on the misconceptions that have been perpetuated to the masses since Charlemagne influenced the writing of the New Testament while he was the main military leader in Europe. As such Charlemagne was able to twist the holy words to suit his own message.
"Charlemagne himself was actually a reincarnate of King Saul and therefore doing the devil's work," Mueller said.
The book summarizes how modern religion has actually forced people to stray from the true path of God by being tricked into following false idols for centuries. Through biblical analysis and scriptural quotes, Mueller hopes to help everyone realize that a 30-year biblical war will begin August of 2016 that will ultimately bring our society to an end.
"This war will be God's way of reclaiming us from Charlemagne's pagan messages," Mueller said. "This war will last for 30 years to match the amount of time it took Charlemagne to impose his form of Christianity on the world."
"Mysterious Secrets From Behind the Veil"
By: R.A. Mueller
SC-ISBN: 978-1-4836-3340-4
SC-Retail price: $19.95
Available at barnesandnoble.com, amazon.com and Xlibris.com
About the author
R.A. Mueller is retired living in Vancouver and continues to vigorously study the Bible to shed light on further controversies.
###
EDITORS: For review copies or interview requests, contact:
Spencer Hotz | 317.602.7137| shotz(at)bohlsengroup(dot)com
(When requesting a review copy, please provide street address.)