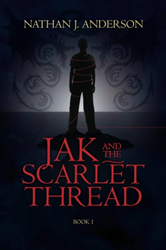 People have been searching for the fountain of youth for a long time, and it's no wonder, because we weren't created to die. God has a better future for us, and it's wrapped up in the pages of Scripture
Eau Claire, Wi (PRWEB) October 30, 2015
If anyone has ever told you that reading the Bible is boring, more than likely they haven't read much of the Bible. Vast portions of Scripture would make great material for a soap opera, yet God has worked in amazing ways through messed-up people to work out the greatest rescue plan ever devised. Unfortunately, many, both young and old, have no idea what this plan is, and have little desire to dig into Scripture to find out.
Pastor and author Nathan J. Anderson (http://www.NathanJAnderson.Net) wants to change this with "Jak and the Scarlet Thread," the first of a series of young adult fantasy adventure novels that will take readers through the entire Bible, starting with the tumultuous first nine chapters of Genesis.
"Three words whirl 12-year old Jak to a particular garden paradise where a treacherous interaction between Man, Woman and a snake usher death and evil into the world. When a mysterious benefactor offers Jak the opportunity to bring the dead back to life and live forever, it sounds like an impossible dream, that is, until Jak's grandfather begins aging...backwards.
"However, the weapon Jak's been given to defeat death doesn't even work yet, and the serpent Beelz isn't willing to give up the Earth without a fight. Besides that, there's the poison...
"Is it really true that the dead can live forever? What will it take to restore paradise?
And that's where the story begins. Anderson said, "People have been searching for the fountain of youth for a long time, and it's no wonder, because we weren't created to die. God has a better future for us, and it's wrapped up in the pages of Scripture."
Although the storyline weaves through the Bible, Anderson said the story does not feel overtly Christian. The words "God" or "Bible" do not appear, but both are referred to extensively as "El", "Yahweh," and "the book." None of the names of the people or places of Scripture have been changed, nor have the stories themselves changed.
Here's what a few readers have had to say:
"In a genre filled with vampires, witches, and wizards, Nathan Anderson has written a story that is filled with life. Jak and the Scarlet Thread is a nonstop thrill ride and the best part is that it dives into the greatest stories of history. Once you start reading it, you will not want to put it down. Watch out Percy and Harry here comes Jak!"
–Terry Cuthbertson, children's pastor, Spring Creek Assembly, creativekidspastor.com
"I've read a lot of fantasy books in my life. I love to read. However Jak and The Scarlet Thread is by far my favorite book of all." –Cully H., age 12
"I'm amazed and grateful for the response 'Jak' is getting from both kids and adults," Anderson said, "Twice I've been accused as the reason the laundry's not getting done. The most popular question I get is 'when is the next book coming out?'"
To read the first chapters of "Jak and the Scarlet Thread," go to Anderson's website, http://www.nathanjanderson.net and click on the 'Jak' tab.
About Nathan J Anderson:
Nathan currently serves as a hospice and hospital chaplain in Wisconsin. He graduated from Bethel Seminary with a Master of Arts in Theological Studies, and spent ten years pastoring in Minnesota and Wisconsin. Before that he lived in Nashville, TN for a few years pursuing professional music ministry until God called him to go to Bethel Seminary. He graduated in 1994 from the University of Wisconsin - Eau Claire with a B.S. in Biochemistry/Molecular Biology. He'll tell you someday how that happened over a cup of coffee.